Just south of route 80 in central eastern Pennsylvania is the small town of Stroudsburg.  This beautiful village, nestled between the Delaware Water Gap and the Pocono Mountains, is the perfect place for a vineyard and a cozy place for a distillery. Mountain View Distillery is a perfect tourist destination for a summer afternoon and I enjoyed every minute of my visit.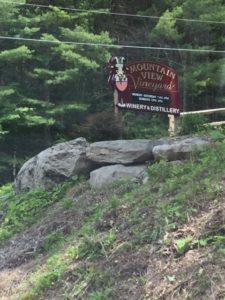 Mountain View Distillery is owned by Linda and Randy Rice. The both left their jobs back at the beginning of the new millennium to follow their dream of starting a vineyard. (Linda is an ex-pharmaceutical sales rep and Randy was a teacher.) They moved onto their property in Stroudsburg in early 2002, began planting in 2003, and finally opened to the public in 2009. Since then, their ambitions have grown and plans for a distillery came to fruition on Labor Day weekend 2013, the same weekend as the vineyard's 4th anniversary and their own 24th wedding anniversary. New property was purchased about 2 miles down the road about two years ago in an effort to expand the business. 2000 vines went in last year and 3200 new vines this year! All of the planting is being done organically and sustainably with dry farming techniques, geothermal techniques, rain gardens and solar energy capture. It's a beautiful thing to see a farm to elegantly maintained. The highlight of my visit was a guided tour led by Linda across her property and out over the lovely, rolling mountainside that overlooked her vineyards.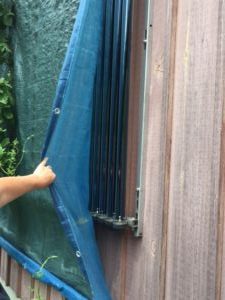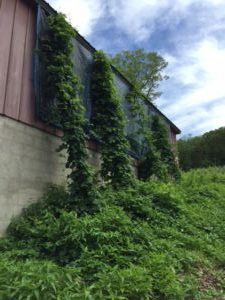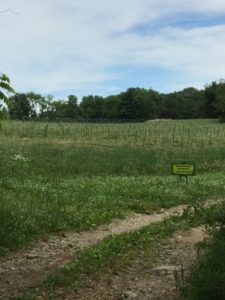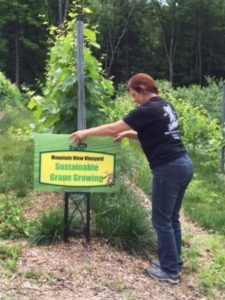 The distillery is the beneficiary of all the vineyard's successes. Fermented wines can be pumped directly into the distillery through pipes that run from one manufacturing building to another. The vineyard employs solar vacuum tubes to provide radiant floor heat and to control temperatures in the vats. The tanks are wrapped in aqua packs that help to control temperatures during fermentation and the solar tubes can both contribute and divert heat from them. Once the wine is piped into the distillery, it can be distilled into brandy and vodka. Mountain View also experiments quite a bit with distilling local grain and local ciders. Heckman's Orchard in Brodheadsville, Pa provides them with pressed cider in the autumn during the apple harvest.
Randy Rice is the man in charge of distilling at Mountain View. His interest in experimentation seems boundless.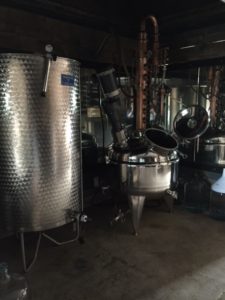 He has worked with local craftsmen to tinker with improvements all over the property whether it be with masons to construct subterranean concrete holding tanks, plumbers to run experimental lines, or architects to design new additions that employ geothermal technology. He has plans to plant rye and alternative grains on site, as well, to utilize in his spirits. There are hops growing happily on the property that I'm sure will see their way into his beer creations. His 50 gallon still has six copper plates in the column that will allow for a multitude of spirits to be made on site.
In the coming years, Randy and Linda will be expanding and building on their already expansive property. A new building will host events, weddings and accommodations for visitors. You can see all of the plans in blueprint form in their tasting room. The wine and spirits share the space with local products made by Robert Rothchild Farms and Dutch Hill Preserves as well as jewelry, t-shirts and accessories. It's exactly what you'd hope to experience at a small distillery tucked away in the mountains. They are only about an hour and a half drive from Philadelphia, and it makes for a very scenic road trip. Try the apple pie moonshine! (It's made with real apples so you have to shake it up first.)
Open Daily

Monday–Saturday: 11am–6pm
Sunday: Noon–5
The final tasting begins half an hour prior to closing.

Tours
Distillery Tours
Saturdays & Sundays: 1pm

Vineyard and Winemaking Tours
Saturdays & Sundays: Noon
Wear comfortable shoes