"Disobey Responsibly."
Driving through western Pennsylvania gives you a feel for why distilleries still have an emotional connection to the Whiskey Rebellion. It's rural. It can feel bit isolated from the big cities and the towns have a strong loyalty to their local businesses. Disobedient Spirits is located in the small town of Homer City, Pennsylvania. Driving into the town, you can't help but notice its national pride in the local military because every telephone pole boasts a different image of an American veteran soldier from the area. The downtown of Homer City is quiet, but the distillery is not.
Immediately on entering the distillery through the vestibule, the large tasting room opens up to your right. There are large plate glass windows that face the street with hand made artisan tables and chairs in front of a large, smooth concrete bar that was constructed specially by local craftsmen. (It looks more like marble than concrete!)
The name "Disobedient Spirits" and the iconic image of Hermes is painted as a mural over the bar. Their logo is a nod to the imagery on U.S. tax stamps before Prohibition. You can see the distillery and its equipment through large windows in the tasting room. There is plenty of room for growth here as all of the rooms throughout the building seem to have vast amounts of space. This distillery seems to double as community center as well, with events ranging from weddings to children's painting classes. The ambition here is palpable.
Disobedient Spirits opened in December of 2014, though it began its journey in 2012. The owners, Bob Begg and Bob Sechrist, began putting their dream together with the help of local grain producers. Being children of the 60's, they could relate to the rebellious and, perhaps, disobedient spirit that made western Pennsylvania the root of the whiskey rebellion. Bob Sechrist had been brewing beer and making wine for over 30 years and discovered a love for spirits that he wanted to pursue further around 1999. After discussing plans with friends to open a distillery, he went down to Kentucky for more in depth training. His interest in the crafts spirits industry that was beginning to take shape around the country encouraged him to put distilling roots back down in the birthplace of American spirits -Pennsylvania. In an effort to step up production and organize the business, Bob Begg brought in his son-in-law, Jordan Gwinn, who has a food and beverage business background to be operations director.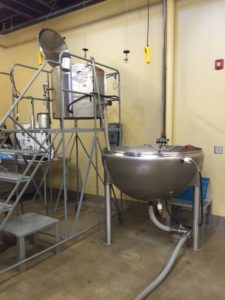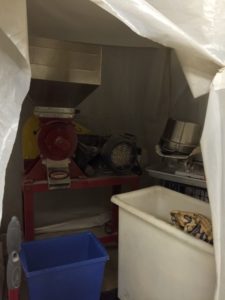 Their grain is being sourced from Goshen Valley Grains in Bentleyville, Pa and a variety of malts are being produced by Penn's Mault in Spring Mills.
They mill on site with a hammer mill in a separate room from the distilling equipment. Their ADE (Affordable Distilling Equipment) stripping still/mashtun combo unit cooks the grains and then the mash is fermented in plastic vertical tanks for about a week. They ferment "off the grain" which means they remove all solids from their mash before pitching their yeast. Reverse osmosis filtered water has been used in production, but they are experimenting with using city water for fermentation. The 50 gallon Hillbilly still is employed for the final spirit run. Their aged whiskeys are being barreled in smaller barrels for 3-6 months. Their rye whiskey is very interesting at 80% rye content (both malted and unmalted) with the balance being yellow corn and chocolate malt. The result is a light chocolate cherries flavor on the palate. Other spirits being produced are brandies using locally sourced fruit, vodka, a 6 month old bourbon and their most popular spirit, a cherry whiskey. That whiskey is a 3-6 month old corn whiskey that was aged in used barrels and then infused with ripe cherries. (about 1 gallon of spirit to a pound and a half of cherries!) There is lots of experimentation taking place here as well with eau de vie, apple brandy made from local cider and blue corn whiskey (74% corn, 26% malt). Longer maturation is taking place in 53 gallon barrels as well.
It's exciting to see western Pennsylvania light up with new distilleries and new flavors. There seems to be no end to the experimentation and originality in distilling in our state. I'm looking forward to seeing what Disobedient Spirits brings us next!
www.disobedientspirits.com
Hours:  Tuesday – Wednesday 12-9 pm
Thursday – Saturday 12-11 pm          Sunday 2-7 pm