Let's look at two bourbon distilleries based in Juarez, Mexico. It shouldn't come as a surprise that their roots are connected to Prohibition. But first, let's address a new brand of whiskey recently released that is meant to celebrate one of these Mexico-based distilleries' owners, Mary Dowling. The whiskey in the bottles of these "Mary Dowling Kentucky Straight Bourbon Whiskeys" were distilled by Rabbit Hole Distillery in Louisville, Kentucky. I'm a unabashed fan of the man behind Rabbit Hole's whiskey- Larry Ebersold, aka the "Godfather of Rye Whiskey." He consulted on the initial distilling methods still employed there and helped set the standards that would help build their brands' popularity today.
The marketing for this new brand of whiskey dubs Mary Dowling the "Mother of Bourbon." This distinction seems, well…wrong. Bourbon firebrand? Sure. Anti-Prohibition advocate? Absolutely. Bourbon bootlegger? Almost assuredly. But mother of bourbon? Being a woman doesn't mean she gave birth to bourbon, folks. There's something a bit off-putting about that marketing angle for me, but I can't quite put my finger on it.  Mary Dowling was not a distiller and had very little to do with the production of bourbon she profited from. She was certainly the owner of a whiskey distillery, which is no small thing, but there were female distillery owners before her. Like Mary, these owners became distillery owners after the deaths of their husbands. The other odd thing about one of the whiskeys is that it's finished in tequila barrels. I am at a complete loss there. I'm not sure Mary Dowling would ever have approved of that. But who knows? She fought against bourbon being an exclusively American product. Maybe she'd be excited to see bourbon stray from the staunch guidelines shielding bourbon from adulterations or additives (otherwise known as rectification). Because, let's be honest here, barrel finishing in "wet barrels" is literally adding other spirits to otherwise pure, straight bourbons- which used to be a no-no. I'm sure Mary would agree that changing times call for updates in regulations…Mary being a firebrand and all.
That being said, let's get back to the history. By now, most lovers of bourbon history are aware that there were whiskey distilleries in Mexico. But who were they, and how did they come to exist in the first place? Many have heard of Waterfill & Frazier's bourbon (Mary Dowling's whiskey), but there was a lot more to the history of Mexican bourbon than that one brand.
There were 4 distilleries producing whiskey in Mexico during Prohibition, three of which were in (or just outside of) Juarez. Only 1 of those 3 had been producing whiskey before Prohibition and it was the largest- the D.M. Distillery.
The 2nd largest was the D.W. Distillery which was known for its association with the Waterfill & Frazier brand. The smallest was the M.D. or Mexico Distillery. The fourth was quite far away, south of California.
The D.M. Distillery was moved from Virginia to Juarez, Mexico in 1909. The most famous bourbon brand they manufactured was simply called "Straight American Whiskey." Perhaps some history is in order.
The D.M. Distillery was founded by a man named John Hutchings Pigg. Pigg had been a distillery owner in Virginia during the first few years of the 20th century, but his distillery was eventually seized by revenue officers in 1905 due to "alleged irregularities." Pigg's Dry Fork Distillery found itself embroiled in even more severe allegations of revenue fraud over the next few years. Pigg moved to El Paso in 1908 and opened his new distillery in Juarez in 1909. This would become the D.M. Distillery. It is unclear how long Pigg remained there, but he was connected with the distillery until at least the nineteen teens. Early on, the distillery became known as simply the "Juarez Distillery" and its processes would have been informed by J.H.Pigg's methods back in Dry Fork, Virginia. By 1918, the original plant was owned by a man named Joe Dunne. Eastern industrialists began looking to purchase the facility from Dunne during WWI for industrial alcohol production. (Thanks to Curt Kolcun for his help with research on D.M.Distillery's Virginia roots!)
By 1925, the plant was purchased by Lew J. Morris of southern Illinois and Franklin O. Mackey of Kansas City. Mackey and Morris insisted they were "American patriots" that should be applauded for their efforts to keep American bourbon from obscurity. They were going to make it properly, they explained, using tradition and science in their processes and keep bourbon alive as America awaited the inevitable repeal of the 18th amendment. They rebuilt the original plant, making it four times larger and capable of producing about 30 barrels a day. In 1929, Morris sold his half interest to Julian M. Gomez and Salvador Ateca, but the following year, ownership was divided between F.O.Mackey and J.M.Gomez. Demand for whiskey was rising in Mexico, not only due to the soaring tourist trade in cities along the US border, but also through an increased interest in whiskey from Mexican citizens. This growth was largely the result of D & M's targeted advertising and hiring of sales teams to promote their American whiskey. The whiskey being produced in Mexico was younger, but it was said that the climate in Mexico made "two year old whiskey taste like it had been aged for four years." About a third of the contents of their barrels were lost in those first few years- and it's no surprise considering that they were left out in the elements- on 17 acres of dry, open ground! (see image above) The popularity of Juarez whiskey led to many counterfeiters, so F.O. Mackey devised a special bottle cap that could be used as a cup which would help differentiate his products from fakes. While the whiskey was being manufactured in Mexico, almost everything about the product was sourced from America. Those special aluminum caps were manufactured in Ohio, and their bottles were made in Illinois. Their grain came from the US- corn from Omaha and rye and barley from Milwaukee. The white oak wood used for filtering charcoal was brought in from Arkansas, and the barrels themselves were purchased from Kentucky! D.M. Distillery's products were shipped to border towns where new clubs that couldn't buy enough of their products popped up like weeds. "Straight American Bourbon" was also consumed aboard steamer ships and passenger trains through Mexico. In 1930, the distillery had its busiest year, nearly doubling its production from about 2500 barrels per year to 4800.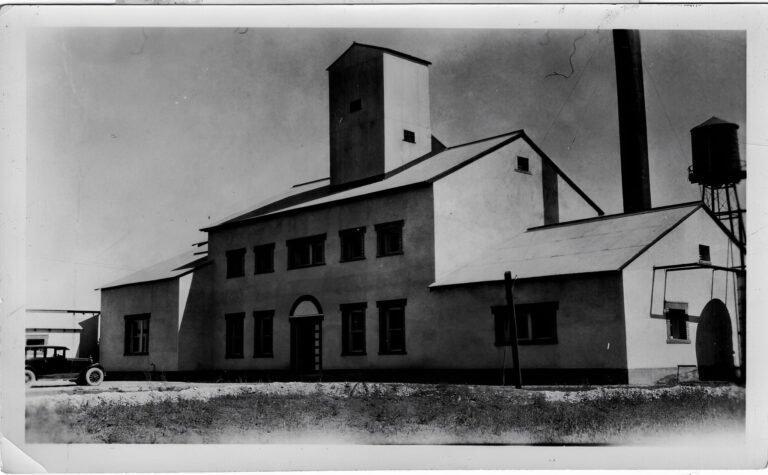 The other large producer in Juarez was the D.W. Distillery. It, and the Mexico Distillery, joined the already established D&M Distillery after Prohibition. The plant was built in May 1926 near its much older neighbor. Its owners were Mary M. Dowling of Louisvillle, Antonio J. Bermudez, and Enrique Florez. The original investment of $100,000 was to build the plant and install the machinery which had been brought to Juarez from Kentucky. The pot stills were built by Vendome to replicate the exact still used at the old Waterfill and Frazier plant in Tyrone, KY. Another $250,000 was invested the following year to upgrade bottling and other equipment, as well as provide a ready-made stock of whiskey to jump start sales. The distillery's first run was in early in 1927, producing 5500 24-bottle cases. D.W. Distillery swore that its product was being made the same way as it had always been made in Kentucky since 1810, even bragging about bringing in a famous Kentucky distiller, Joseph L. Beam, to oversee production. Years later, the owners would explain that they "used the original formula developed by the founders" and felt a connection to those founders because "Waterfill and Frazier whiskey was born in 1810, the year Mexico began its struggle for independence." A good marketing opportunity is never missed by whiskey makers, regardless of where it's made! It seems Mary Dowling's choice to move her Kentucky distillery to Juarez was not only determined by northern Mexico's dry climate and its ability to be bring whiskey to market more quickly, but that it would find a ready market already established by the D.M. Distillery. Even the name D.W. Distillery was strikingly close to "D.M.Distillery." For Waterfill and Frazier's new home, the "D" stood for Dowling and the "W" for Wohl, one of the American investors, but not one of the principal owners.
These two distilleries in Juarez made up the bulk of Mexico's bourbon production, not just during Prohibition, but long after Repeal moved the Waterfill & Frazier name back to Kentucky again.
When it comes to bourbons that were made in Mexico, we tend to hear about Mary Dowling's D.W Distillery and her Waterfill and Frazier whiskeys because she and her brands were from Kentucky. The D.M. Distillery, which was larger than the Dowling's D.W. Distillery, had its origins in Virginia, not Kentucky. While the D.M. Distillery was founded in 1909 and the D.W. Distillery was not founded until 1927, their common thread was that both companies were founded in Juarez by Americans needing a refuge from their own legal problems at home. Let's first look at Mary Dowling and her D.W. Distillery- the plant that made Waterfill and Frazier bourbons in Mexico during Prohibition.
Before Prohibition went into effect, Mary Dowling did her best to unload the 22,000 barrels of whiskey that remained in her Waterfill and Frazier warehouses near Lawrenceburg (Tyrone, Kentucky). By January 17, 1920, she had about 1,600 barrels remaining. So she decided the best course of action would be to bring them to her house and bottle them there in order "to keep them safe from the heat." Perhaps by "the heat" she meant…the police? It seems Mary and her children had been selling that bottled whiskey out of her house. Prohibition officers tailing local delivery trucks were finally able to confiscate whiskey that had connections to the Dowling family. "The heat" finally raided Mary Dowling's home on March 26, 1923. There was a very public trial the following year where many society friends and public figures gave testimonies swearing to the character of Mrs. Dowling and her decent, well-educated children, but the evidence was stacked against them. While the family had been at liberty since March 1925 (each under $5,000 bonds), the final ruling came in March 1926.  Heavy fines of $10,000 were placed on Mary, and the judge sent her two sons, John and Emmett, to prison, each for a year and a day. The ruling was in March, and by May, construction had begun on Mary Dowling's plant in Juarez, Mexico! How did it all transpire so quickly? How did the Dowling family find a location and begin construction of a distillery in a foreign country within months of the ruling? It seems the 65-year-old Mary Dowling was more than she let on. She certainly found a way to keep her family wealthy even as the American distilling industry, or what was left of it, fell under the control of interests her family was no longer directly connected to.
Both the D.W. and D.M. Distilleries in Juarez were founded by Americans that had been escaping the law in one way or another. The fact that they were operating during Prohibition just adds icing to an already crooked cake!