Though many Philadelphians are aware of this, Philadelphia Distilling is moving.  They have been happily nestled in an industrial park on McNulty Rd. in the Byberry neighborhood of Philadelphia since 2005, and now they will be moving their base of operations to a more central location- the Fillmore.  This newly opened music venue is very visible from I-95. The new headquarters will have a tasting room, event space, retail shop, an 80-seat restaurant, 80-seat outdoor patio and cocktail bar.  My interest is not yet in the new location yet, because the roots of the distillery's history are in Byberry…and the business is still located there…for the time being.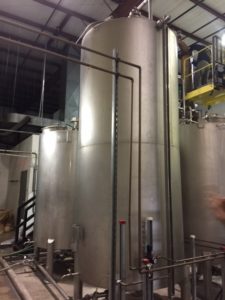 I stopped by their McNulty Rd. location last month to pay some respect to the first Pennsylvania distillery to open since before Prohibition.  This was no small feat for its founders Rob Cassell, Andrew Auwerda (Rob's uncle) and Timothy Yarnall. You see, there were no new distilleries in Pennsylvania to draw inspiration from.  Even the application for a distilling license needed to be created specifically for them because one did not exist at the time.  Rob Cassell began to form an interest in distilling while working as a brewer and went on to study the science of distillation at Heriot-Watt University.  In 2005, he put that education to work creating Blue Coat Gin.  The success of this brand inspired many others across the state, and Rob's established credentials helped to sway the Liquor Control Board to pass more distiller friendly laws which would allow for their successes as well.  Today, the company produces many brands- Bluecoat Gin and a new barrel aged version, Blue Coat Barrel Reserve, Penn's Vodka (a local, rye based vodka), The Bay Vodka (vodka flavored with an "old bay" style spice) and Vieux Carré Absinthe.  When I arrived for a visit to the distillery last month, the whole distillery smelled like the absinthe that was being made that day!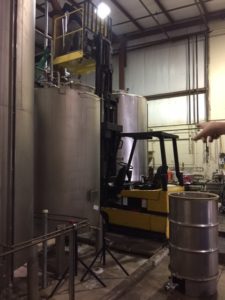 I met with distillers Aaron Selya and Ryan Scheswohl.  Aaron has been with the company since 2014 and Ryan began his training this year.  They both trained under Bill Tambussi, the head distiller.  The beautiful centerpiece to the distillery is the 400 gallon Scottish-made copper pot still from A. Forsyth and Son.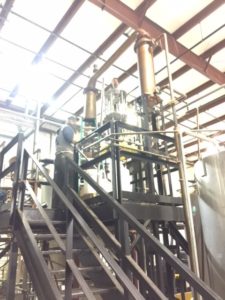 When I walked in, Aaron was replacing a gasket between the still and the lyne arm.  Even the bolts on the 1500 liter (400 gallon) pot still were made of copper!  They explained that the new still being ordered from A. Forsyth and Son would be larger (2500 liters), but identical in design, to retain consistency in their products down the road.  The barrels stacked in the back were all 53 gallon barrels from Independent Stave Company.
  The barrel aged Bluecoat gin uses each barrel twice.  The gin goes into the brand new charred oak barrels for about 3 months in the summer and closer to 5 months in the winter.  The second time around, it may sit as long as 5-8 months.  (Gin, of course, doesn't have the same rules as bourbon which can only use the barrel once.) The guys informed me that whiskey is on its way.  Though Philadelphia Distilling has experimented in the past with their XXXShine, they have determined that they would prefer to create aged product.  It looks like they've been experimenting with Deer Creek Malt's barley and intend to work on a wheat whiskey (80% wheat mashbill). Should be interesting…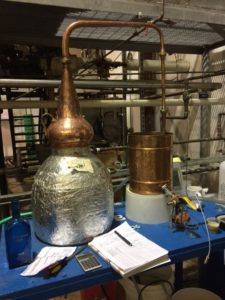 One of the things that I'm excited about is their commitment to Philadelphia and their support of local businesses.  The new distillery in the Fillmore has already installed a large wooden tank, made by Hall-Woolford, on the roof for the recycling of water.  Hall-Woolford Tank Company, Inc. has been making wooden tanks for over 160 years and has lots of experience with creating tanks for the distilling industry.  It's just one of the Philadelphia cornerstones of whiskey trade that existed in the city many years ago.  It's good to see Philadelphia Distilling embracing an old-school Philly company.  They will also be contributing to the renaissance of the Riverwards and the neighborhood of Fishtown.  There are now 7 distilleries* including Phila. Distilling.  (Red Brick, La Colombe, Federal, New Liberty, Rowhouse, Phila. Distilling and *Jaquin's-which was founded in 1884, is a rectifying distillery and has been there all along)  Philadelphia Distilling will be part of a new, progressive and supportive distilling group committed to each other's success.  They plan to also rent a second building in the neighborhood to store and age their products.
It looks like the new location is slated to open in February for tours.  You can find them on Facebook to find out more.  I'm excited to see the new digs, but I'm very happy that I got to see the still in its original location before the big move.  Cheers, guys!  Congratulations on all of your new success!
12285 McNulty Road, Philadelphia, PA 19154 • 215-671-0346 • info@philadelphiadistilling.com