I was not prepared for my visit to Bellefonte, Pennsylvania. No one told me how beautiful it would be! I was struck by, and found myself in in awe of, this little piece of Belgium in the middle of the state! Only 12 miles north of State College, the town has grown around its belle fonte- its beautiful spring.
 What is necessary when making good whiskey if not good water? There are just the right levels of minerals in this iron-free water to make any whiskey maker in Kentucky jealous. Many Pennsylvanians don't realize that their state possesses some of the highest quality water in the United States that can be perfect for productive fermentation. Anyone who's driven down a highway through Pennsylvania has seen the many limestone cliffs. The quantity of dissolved solids in groundwater is lowest in north-central Pennsylvania, where Big Spring Spirits is located. (Because of the rugged landscape, little groundwater penetrates to deep levels in that area, resulting in a short residence time.) The small, but just right, amounts of calcium and minerals create a "Goldie Locks" zone there for the distillery. The water is not only used for fermentation, it is also used to cut proof for bottling after being lightly charcoal filtered to remove any chlorine. The distiller finds that the water actually improves the flavor of the finished product! The water used to heat and cool the fermenters and mashtun is cooled through a 2000 gallon recycling tank, which contributes to their energy efficiency. In fact, Big Spring Spirits is LEED (Leadership in Energy & Environmental Design) certified. They are the first in Pennsylvania, the 2nd in the United States, and the 3rd in the world to receive this certification.
Big Spring also sources grain from Pennsylvania. They use malt from Penn's Mault in Spring Mills, Pa. Their wheat and corn come from Snaveley Mill in Lititz, Pa, which sources its grain from farms within 50 miles of the mill and has history going back to 1790. Their 300 gallon still is a pot still which can route through a 4 plate copper column as well.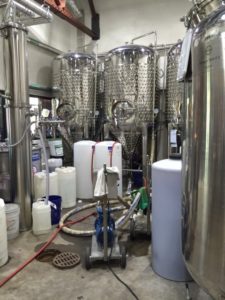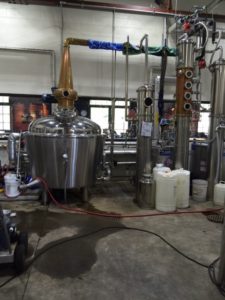 All of their aging is done in 53 gallon Canton barrels and their first barrels of straight whiskey are due for release sometime near the end of October-early November this year! They have been very patient for two years in anticipation of their first aged spirits. Their style will be more in keeping with the Canadian style of aging all spirits separately and then blending them to taste. For example, a straight whiskey may be two parts rye, one part wheat, one part corn. Only time will tell what they design for their consumers.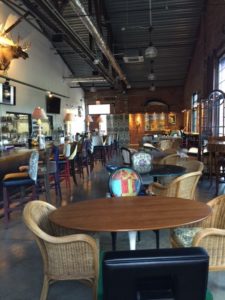 The tasting room is stunning.
Someone went to great lengths to make sure that it was designed for beauty and function. They have an "on-site food truck" in that a small section of the room is behind a counter where you can order food separately.
I had a small tasting of their white spirits with distiller, Phillip Jensen. He was especially proud of their Silver Hare white, wheat whiskey, and I had to agree with him that it was the tastiest of the three white whiskeys. (The others I tried were their Silver Fox white rye and their Silver Lion corn whiskey) Phil was a plant physiologist before becoming a distiller for Big Spring Spirits and his understanding of the grains he's working with and the fruits he intends to experiment with is evident. He employs a slower fermentation than most and is employing enzymes to more completely break down the carbohydrates in the grains. If I didn't have time constraints that afternoon, I would've loved to spend more time there. "The Coaly", which is their best selling cocktail at the moment, looked really good! (Coaly was the name of PennState's first mascot.) I can't wait to go back and taste those whiskeys that are still sleeping in their barrels!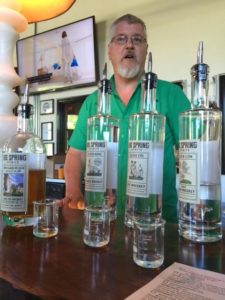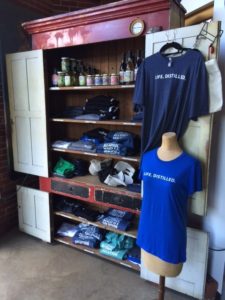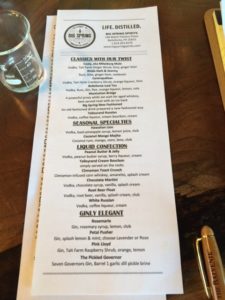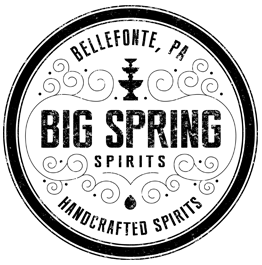 Tasting Room: Thursday: 5pm-9pm, Friday: 4pm-10pm, Saturday: 12pm-10pm, Sunday: 2pm-8pm