I was recently asked about distilleries that would have once existed in a specific area of eastern Pennsylvania. Why not, right? It seemed a good time to post about a few more Pre-pro distilleries- They also made apple brandies and 'tis the season for apples and cider and applejack, after all:)
The Monocacy Creek is one of hundreds of limestone creeks in Pennsylvania, and it starts at the feet of the Blue Mountains where Northampton County is divided from Carbon and Monroe Counties. The creek grows as it follows its 20 mile course through Bushkill, Monroe, East Allen, Upper Nazareth and Lower Nazareth (once Bethlehem Twp.), and Hanover Townships before emptying into the Lehigh River at Bethlehem. Bethlehem is well-known for its steel manufacturing industry, second only to Pittsburgh in Pennsylvania. Today, Bethlehem boasts a distillery again- Christmas City Spirits. Historically, however, the creek had more distilleries near its source. In this post, I've covered three Northampton Pre-pro distilleries; Two distilleries in Bath, and a third in Petersville, Pa.
Miller & Dick
Bath, Pa.
Northampton County
RD# 12
12th District
The information I have found on these owners is scattered and not enough to write a detailed entry on. Suffice it to say that the company was a later iteration of another earlier distillery. It's owners were Samuel B. Dick and Solomon Miller.
Steckel Distillery
Bath, Pa.
Northampton County
RD# 16
12th District
The Steckel family have been associated with the Lehigh Valley since the 18th century. It is believed that the patriarch of the family, Johan Peter Steckel, settled in Lehigh County shortly after he arrived in Philadelphia in 1738. Peter's 4th son, Daniel Edwin, established the Steckel family within (what would become) the borough of Bath. He built his 2 ½ story Federal style home out of local limestone in 1804. The dwelling still stands and has been converted into a "bed and breakfast" with an antique store.
Daniel Steckel began a tanning business in Klecknersville, 4 miles north of Bath. Daniel's son, Peter, was born in 1794. It is unclear when Daniel and his son Peter established the distillery just above Bath beside Monocacy Creek, but it was likely after Peter returned from his service in the army during the War of 1812.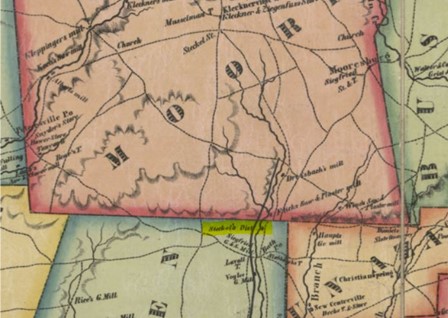 Peter Steckel's son, Israel Frank Steckel, would became the next generation's  owner/operator of the family's distillery. He also worked closely with his father in running the Sheriff's office in town during the 1840s. In 1860, at the age of 40, Israel was working as a journeyman distiller under J.A.Laubach in Bethlehem. 3 years later, he was drafted to serve in the Union army during the Civil War. Draft records list him as a "miller" in 1863. After the war, Israel returned to Bath, where he remained for the rest of his life. He maintained many businesses over the years: a mill, a farm, a general store, and of course, the distillery. By the late 1800s, Israel was partnered with Allen C. Steckel, eventually turning over the management of the distillery to Allen. Under Allen's proprietorship, the distillery was producing sweet mash rye whiskey about 6 months per year with a mash capacity of 12 bushels. He raised hogs on the distillery's spent grains. I.F. and A.C. Steckel dissolved their partnership in January of 1893. When Israel died in 1894, the distillery was listed as abandoned.

Old Monocacy Distillery
H.R. Jones
Bath, Pa.
Northampton County
RD# 27
12th District
It's difficult to know if references to the "Bath Distillery" in Upper Allen Township are describing Steckel's Distillery above Bath or Hugh R. Jones' Old Monocacy Distillery in the lower part of town. They were both operating in Bath at the end of the 19th century. Old Monocacy, named after the creek running through the heart of the town, had a 6-bushel mashing capacity which was half of what the Steckel Distillery was producing.
Old Monocacy sat just behind a foundry and a blacksmith/metal shop along Grove Street (modern day Mill Street). Half of the building was utilized for farm implement storage with the still house in the rear. It had four fermenters, a large mash tub and a beer still and doubler. The meal, which was ground at a neighboring flour mill, was stored on the second floor. An 8'x16' boiler house on the eastern side of the building provided steam for the still house and its bonded warehouse. The office and retail house for the business were on the opposite side of the building. The distillery's 24'x32' iron-clad warehouse had a capacity of 500 barrels that were stored on 4 tiers of patent racks. Water was supplied to the distillery by springs and a well deep below the property.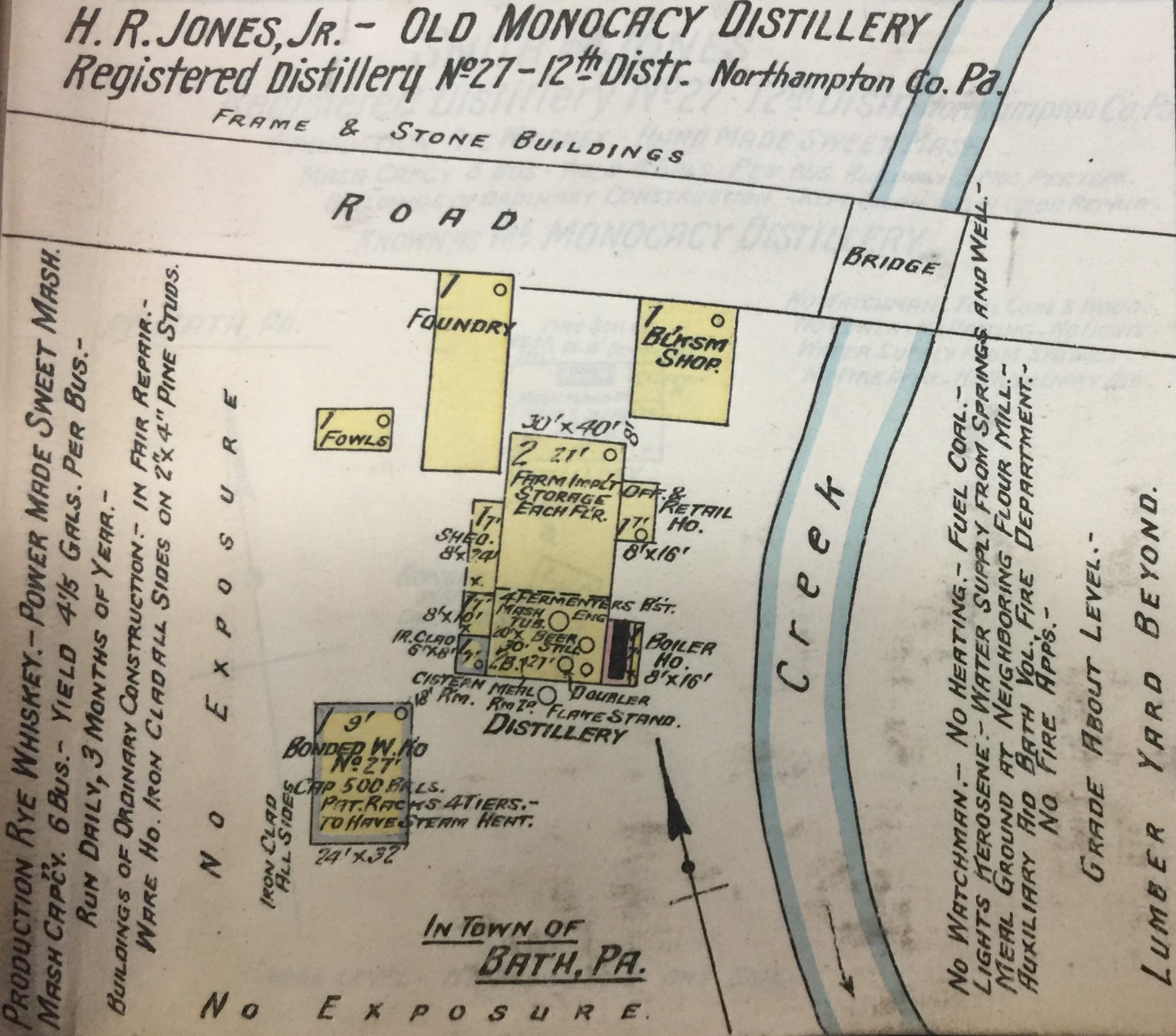 H.R. Jones, Jr. was likely not the original owner of Old Monocacy Distillery. There are references calling the site Strawn's Distillery before Jones took ownership. It is not clear how long the distillery remained active. The Sanborn map pictured shows the distillery active in 1904, so it is possible that it remained so for years afterward. Hugh R. Jones,Jr. lived in his whole life in Bath, from 1861- 1954. He and his father before him are buried there. Hugh Jones, Sr. was originally from Wales, arriving in the United States around 1860 and settling his family in Bath. H.R. Jones, Jr.'s death certificate revealed him to be a butcher living on Main Street at the time of his death.
W.B.Nace
Hokendauqua Creek Distillery, Petersville Distillery
Petersville, Moore Township
Northampton County
RD# 37
12th District
Born and raised in Bucks County, William Borger Nace left his home in 1857 to learn the milling and distilling trades in Hanover Township. He trained with John Dech, a wealthy and reputable farmer with extensive property along the Monocacy Creek. After his training, he moved around a bit before marrying Lucretta Seem and settling in Moore Township in the early 1860s. He began the operation of a grist mill along the Hokendauqua Creek in Petersville in 1864 and managed 160 acres of his own farmland. As his milling business developed, a distillery was added in 1886 where he manufactured a fine grade of rye and wheat whiskeys.
William Nace's distillery earned a solid reputation for quality and purity in just a few years. By the early 1890s, his "Petersville Whisky" had become a household name across the Lehigh Valley. In September 1892, he completed construction on a new cider mill with a capacity of 60 barrels a day. The Allentown Democrat reported on October 26, 1892, "Mr. W.B.B.Nace, of Petersville, one day last week made 3200 gallons of cider. It was his "cider day" of the season of 1892." Nace's 22' x 36' distillery building housed 4 fermenting vats and its 12-horsepower engine and buhr mill on the first floor and kept the mashtun, beer still and doubler above. Grain and meal were stored on the 2nd floor as well. The distillery's 16' x 25' bonded warehouse was unheated and held about 175 barrels.
William's sons began taking on more responsibility in the mid-1890s. His eldest son, Howard W. was taking on the role of Peterville Whiskey's salesman while Oliver F. and John H. helped to maintain the farm, mill, and distillery property. John was listed in the newspaper as handling auctions of farm implements and animals that would take place on the mill/distillery property. One auction in particular in the spring of 1894 benefitted greatly from a rumor that traveled quickly in the weeks leading up to the auction. The Daily Item, a Sunbury, Pennsylvania newspaper, called the auction "one of the largest sales of farm stock ever held in Eastern Pennsylvania…A rumor circulated that that there would be free whisky. As a result over 3,000 people were in attendance and 617 teams were tied on the farm. No whisky however, was in sight."
After over a decade of business, William had over 6,000 gallons of bonded whiskey in stock. His surplus inspired his purchase of a wholesale liquor store at 165 Hamilton Street in Allentown, previously owned by George Gernert. He had whiskeys that ranged from 2-10 years in age. The 6-10 year old whiskeys were prized for their "mellow flavor" and were considered to be "fine if not finer than the best Kentucky brands."  This quote is telling because the Kentucky Distilleries were being bought up at the time by the Whiskey Trust and were getting plenty of hype through advertising. William's retail store was able to sell smaller quantities than the wholesale shop at his distillery which could only sell by the gallon or the barrel. William Nace's agent (presumably his son, Howard) canvased the region, taking orders and delivering samples to prospective customers.
In 1901, William Nace sold 46 acres of his farm near Petersville to H.P. Bleiler of Allentown and purchased a house at 515 Cedar Street in Allentown. Though he retained the distillery property, by 1907, William was advertising the sale of the 33 acres on which the grist mill, cider press, apple orchard and stone barn and buildings were situated. He retired from business the following year at the age of 71. John Nace removed to Buffalo, N.Y. and only Oliver remained in Petersville. In July of 1910, William Borger Nace transferred his retail liquor license to Charles E. Wiend.  He died in November of the following year.