No trip to Pittsburgh would be complete without a visit to Wigle Distillery in the strip district. It is pronounced "Wiggle", by the way, based on the way that descendants of the Wigle family say it. Though the man after which the brand is named probably would've introduced himself as Philip "Vigle" (with a "V" and a hard "I") with his German accent.
Philip Wigle was one of ten men (of the 24 indicted) that were brought up on federal charges of treason after the Whiskey Rebellion of 1794 was brought to an end. He and one other (John Mitchell) were convicted and sentenced to death by hanging. George Washington pardoned them in the end, but his name will be remembered now on labels of whiskey over two centuries later. (Wigle Whiskey's labels show the "g" in Wigle hung in a noose.) The distillery draws their inspiration for its brand from the Whiskey Rebellion itself. Pittsburgh was at the center of the rebellion and the people of western Pennsylvania still embody that sense of regional pride and independent spirit. They offer an hour tour of the facility with reminders throughout of their ties to American whiskey history.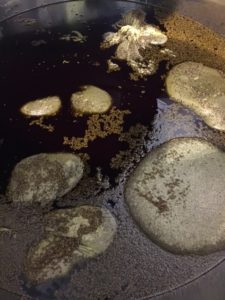 A beautiful centerpiece of the distillery is their beautiful German-made Carl 250 gallon pot still. "Carl" was Wigle's first pot still and he is now joined by "Carol," a new, additional pot still that is used for their final spirit runs. (She's a bit shaplier with a curvier head and neck.) Wigle is making many spirits with these stills: rye and wheat whiskeys, brandy, honey spirits from mead, gin, genever, rum, absinthe, etc.  Their "dutch style" gin is flavored with juniper, cardamom and cubeb berries (described as a cross between all-spice and black pepper). Their distilled honey spirit is called Landlocked because though it is not legally a rum which is usually associated with the Caribbean islands, they share similarities.  Rum must be made with molasses or sugar cane, but, because honey is neither, it has no official distilled spirit name.  Mead is made from fermented honey (similar to beer which is made from fermented grain), and Wigle ferments locally sourced buckwheat and Japanese knotweed honeys before distilling their mead. Their Landlocked Spiced is the original honey spirit flavored with cinnamon, cocoa nibs and orange peel.  It has a very interesting flavor profile and I'm sure it will be very popular with cocktail mixologists.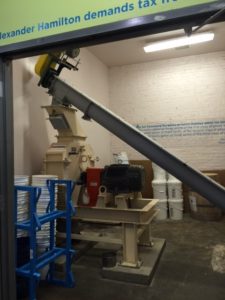 The entire process begins with whole grains that are sourced from New York, Ohio and Wisconsin. Their major supplier is Oeschner Farms in Newfield, NY. The farm provides them with beautiful, organic rye and warthog hard grain red wheat. They mill on-site with their Shutte Buffalo hammer mill, and that ground flour is then conveyed into a large stainless steel mashtun to cook.  Then the mash is fermented for about four days.  The water used for fermentation, by the way, is excellent.  (The local water is why the Hofbrauhaus calls Pittsburgh home.  It's why the most famous whiskey from before Prohibition came from along the Monogahela River area.)  The capacity of the fermenter is enough to fill the stripping still four times for four separate runs. Those four completed batches of low wines are collected and loaded into "Carol" for their final distillation. The wheat whiskey is 80% wheat and 20% malt. The straight rye and small cask series rye whiskey is 64% rye, 17 % wheat and 19% malt. It's also interesting to note that the distillery loves to experiment with fruit from local farms when it is available. They pride themselves on their experimental "one-off" batches that occasionally become available for sale at the distillery to a very enthusiastic local crowd. Those bottles go very fast and the line will wind around the block! My visit on a Saturday was early before they opened, but the moment the doors opened, the distillery was full almost immediately. It was wonderful to see them getting so many visitors.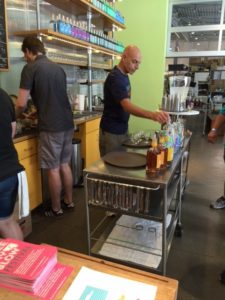 Wigle uses a few different barrel aging options. They use a variety of barrel sizes from a few cooperage sources- Barrel Mill, Kelvin Cooperage and Black Swan. Sometimes they will use a blend of whiskeys from different size barrels to create product. Barrel entry can vary from 112 to 120 proof for their Deep Cut Whiskey.
A tasting was necessary after my tour of the facility, and though it seemed like the options were endless, I limited myself to trying six of their bottles. It was wonderful to see that Wigle is now old enough to be bottling straight whiskeys (Straight whiskeys must be at least two years old.). I left with a bottle of their straight wheat whiskey because I knew it was only available at the distillery. It was wonderful to have Wigle Whiskey come out for the American Whiskey Convention last spring and I, for one, can't wait to see what they'll come up with next! They will certainly be around for years to come, and their whiskey will only get better.  Get out to Pittsburgh and visit them!
Tasting Hours
Mon-Sat: 10 AM-6 PM
Sun: 10 AM-4 PM
The Distillery is the original Wigle Whiskey location and is the hub for all whiskey and spirits production.  Come in to taste, drink or carry out a bottle!
2401 Smallman Street, Pittsburgh PA