Next stop across the state is DR Distillery in Slippery Rock, Pa. This was a bit off the beaten path and took me out into the countryside. I didn't get in until a bit later in the evening, but, thankfully, the owner, Dawn Carson, keeps evening hours and had the bar open for drinks and the distillery open for tours!
When I pulled into the driveway, I saw Dawn sitting out on the country porch of the distillery with a close family friend that rode in his Harley Davidson for a visit. They greeted me with smiles, and Dawn gave me a little background on her farm and distillery. She informed me that her cows and bulls roam freely on the property and don't stray far. After glancing around fruitlessly waiting for one to appear from behind the distillery and snapping some photos, we made our way inside.
She was a farmer on the property (since 1980) before a friend of hers prompted Dawn to open a distillery on site in 2015. She transformed a large outbuilding into the main distillery building, and her husband, who just happens to be a mason, built the concrete extension that is the stillhouse. The name, DR Distillery, is actually a combination of hers and her friend's first initials. Unfortunately, Dawn's friend has moved on, but Dawn and her husband are still going strong! I still feel the name is appropriate because "dr" is also the abbreviation for dram! What can I say? I'm partial to a dram of whiskey!
Dawn sources all of her grain locally. She utilizes two local mills (Sankey's Feed Mill in Volant, Pa for her corn and Zanella's Milling in West Sunbury, Pa for her rye) both of which maintain their connections to local farms. It's encouraging to see her support local mills and farms. Dawn has barrels still wrapped in plastic in her garage as she determines which of her white spirits she will age. She is presently distilling white rum and corn whiskey, which is 80% corn and 20% rye. Her rum uses the molasses that Zanella's sells in bulk. Each spirit is fermented in her large 500 gallon cypress tanks. Both the tanks and her copper pot still were manufactured by Confederate Stills of Alabama. There is plenty of room for growth in production here!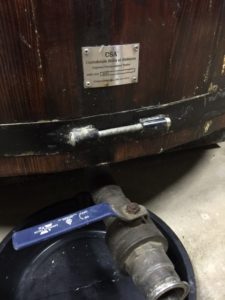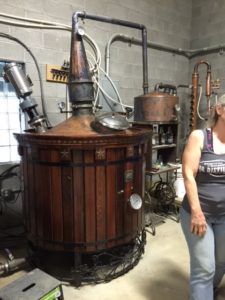 Back in the tasting room, we tasted her rum and corn whiskey and Dawn regaled me with stories about her local friends and good times in western Pennsylvania.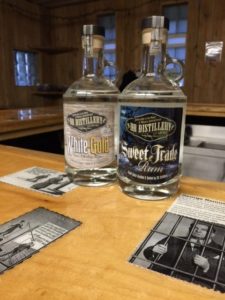 The bar is covered with cut-out images of Prohibition era pictures, newspaper clippings, and liquor advertisements. It was no wonder that this roomy spot was a local hangout! I made sure to buy some merchandise and wished Dawn well before I left. It may not be easy to get to her place, but it was well worth the trip! I look forward to seeing what the future brings for DR Distillery!
 Open to Public Hours
Thur: 2PM – 8PM
Fri: 2 PM – 10PM
Sat: Noon – 10PM
Sun – Wed: Closed