North of Philadelphia is suburban Montgomery County, which is the third most populous county in the state after Philadelphia and Allegheny Counties.  Though Montgomery County wasn't established until 1784 from lands once belonging to Philadelphia County, many of its towns and much of its history go back much further than that.  Pottstown, originally Pottsgrove, was laid out in the early 1750's and grew into an industrial borough along the Schuylkill River specializing in steel, iron, agriculture and milling.  The land the town was built upon was land deeded to William Penn, but, before that, it was land that was occupied and utilized by the Lenape Indians.  The Manatawny Creek, which runs through Pottstown, means "the place where we meet to drink" in Lenape.  Modern day Pottstown is still an industrial and agricultural community and one of the new businesses within the town that incorporates both of those attributes is Manatawny Still Works.   The distillery is two years old as of last April, and they are not only ramping up production, but they are drawing many new tourists into Pottstown to meet and drink.
Manatawny Still Works is the first small batch distillery to open in Montgomery county since 1969.  (Before going out of business, there existed a very large facility owned by Continental Distilling with massive aging warehouses just down the road from Pottstown in Linfield that once housed barrels of famous Pennsylvania whiskeys brands like Kinsey, Old Overholt and Rittenhouse Rye.)  I spoke last week with Bill Hickey, the front of house manager, last week when I revisited Manatawny Still Works.  It seems that every time I visit they have something new and exciting happening.  I was excited to see that most of their aging is now being transitioned from small barrels into 53 gallon barrels.  Most of those barrels are coming from Kentucky's Kelvin Cooperage.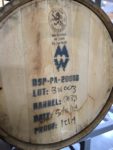 There are experimental batches in finishing barrels, as well.  Their first straight whiskey is on its way soon!  Some of their oldest juice is going into the new, small batch, four grain whiskey they've just released on May 21st called Keystone Whiskey. (It is a blend of malt, wheat, oats and rye that has aged for 12-25 months in new oak.)  It was a pleasure to see how far their aged spirits have come, and I made sure to buy a bottle before I left.
Most of the grain that is used to make Manatawny's whiskey is mashed at Sly Fox Brewery next door.  They source from many local farms which supports their local agricultural production.  (One local farm is Two Particular Acres right down the road in Royersford.)  The mash is then fermented on site in 1200 gallon fermentation tanks.  Fermentation can last anywhere from 3 to 12 days depending on the grains involved.  Max Pfeffer, the head distiller, was once head brewer at Sly Fox and I'm sure his experience in beer fermentation has played a large role in his placing so much importance on this stage of the process.  The two stills (one pot still and one column still) are the first thing to grab your attention in the space.  The Italian-made stills are named after ladies from "The Godfather" movies (though I'm not sure that naming one "Apollonia" was well thought out…she had an expolsive end!).  I was told the pot still was 130 gallons, but it looked larger than that.  The owners of the distillery went big from the beginning knowing that they would want to grow quickly and not run into capacity issues.  The Three Bitches vodka is sourced but redistilled before bottling.  All other spirits are made on site.  Their J.Potts white whiskey pays homage to the founder of Pottstown, John Potts.
I really enjoy my visits to Manatawny Still Works.  They have created a beautiful tasting room, distilling area and aging rack space by dividing up a 7500 square foot industrial building.  It's not what you would expect to find in an industrial park, and yet, there it is- a whiskey oasis in Pottstown.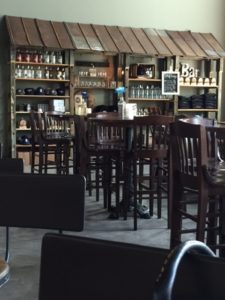 Recycled materials were used to make a wooden Whiskey Rebellion flag (old barn wood), the accessory sales rack (a retired shed and monkey-bars set) and the bar itself.  Fridays are big nights with food trucks outside and cocktails within.  Saturdays are tour days and spots are available online.  One of the highlights of the summer is their partnership with local tea brewer Baba's Brew. Their kombucha teas are carbonated and mixed with spirits for summer inspired cocktails.  3 month barrel aged cocktails (from 10 gallon barrels) like the Dark & Stormy and Blood Orange Old Fashioned are available as well.  Go check them out and come to appreciate what Pottstown now has to offer the Philadelphia area!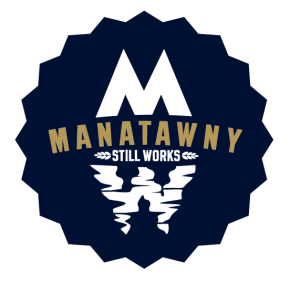 320 Circle of Progress Drive
Suite 104
Pottstown, PA 19464
p: 484.624.8271
Mon – Wed (Walk-in sales only)
Thursday (5 – 9pm)
Friday (3 – 11pm)
Saturday (Noon – 11pm)
Sunday (Noon – 5pm)