Some micro-distilleries are more micro than others. Triple Sun Spirits in Emmaus is a recent addition to the Pennsylvania distilling scene that opened on April 22nd. The owner, Kristofer Kwant, a local Lehigh valley resident, found his passion for distilling after many years of home-brewing. He traveled throughout the US to learn more about the process of distillation from others in the field, but his travels to the Caribbean crafted his passion for rum. I was lucky enough to catch Kris in the afternoon before he opened his tasting room to the public.
The tour he gave was beautifully informative and he made no effort to dumb anything down, which I found refreshing. The tours are free! His distillery is small and tidy and located right near the railroad tracks in town. The small, 30 gallon still, made by Hillbilly Stills in Barlow, Kentucky is set up on a raised platform with 2 large storage totes. The still is entirely copper and has a 4 plate reflux column. The totes serve as holding tanks for fermented and lautered liquids ready for distilling. One of the things I found fascinating is that Kris set up his business in Emmaus specifically for access to the town's water supply, which is rich in minerals such as calcium from limestone in the town's well water. Limestone water is great for fermentation. Fermentation is done on a small scale, for now, in the same room in stainless steel tanks. The corn whiskey that is made here is made from 100% local corn (sourced from Newhard Farms in Kutztown) that is acid converted, drained and mildly filtered before fermentaion, then fully filtered again before distillation. It is bottled at 100 proof and sold for $35. Their white rum is made from sugar cane in the Cuban style. Kris wanted a traditional style rum made from sugar cane that would serve as both a great mixer and sipper. Whiskeys are coming in the future that will be made using an 80% corn, 10% rye and 10% barley (sourced from Deer Creek Malthouse in Glen Mills, Pa) mashbill.
The space that serves as the tasting room is a modern space with cozy accents. 25 gallon barrels from Kelvin Cooperage were serving as tables while they patiently wait for spirits to fill them. After sipping a cocktail made from the corn whiskey and ginger cola, I tried the white spirits and a few infusions that Kris prepared. The rum lightly aged with the use of whiskey sticks was particularly nice. It was a real pleasure to have one of Kris's sons pop in to deliver some dinner to his father. His son informed me that he was the designer of the logo for the company! The three suns, drawn in crayon, represent the three sons that inspire Kris every day. I made sure to buy a t-shirt for $15 to sport his clever design. There's a little bit for everyone here! Cocktails are reasonably priced at $8 and samples run from $4-6. They also sell flavoring kits in small tins and aging sticks as well. Kris hasn't advertised his business yet, preferring a form a "guerilla marketing" to draw in the locals as he establishes himself a bit more. I will certainly be back to visit soon!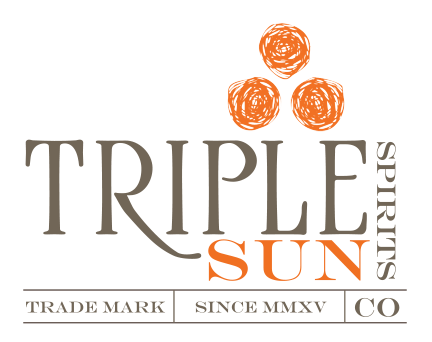 518 Bank Street
Emmaus, PA. 18049
(610) 904-8082