Every once in a while, you get to see a circle being completed.
The last distillery to close its doors in Pennsylvania was Michter's Distillery in Schaefferstown in 1990. The closing of this distillery marked the end of an era. The Michter's brand name was sold to a company in Kentucky (Chatham Imports) and the brick and mortar distillery was left to decompose. The last distiller to work on site in Shaefferstown was a man named Dick Stoll. Now, in his eighties, Mr. Stoll and his youthful, energetic partner, Erik Wolfe are determined to bring back that which was lost. Their new Stoll & Wolfe distillery will incorporate the old with the new by employing the talents and experience of Mr. Stoll with the a modern vision of Pennsylvania distilling.
Lititz, Pa is only ten minutes down the road from Shaefferstown and is where Erik Stoll grew up. He and his wife, Avianna, have returned there from New York to re-root themselves and their daughter here. I had the good fortune to sit and talk with Erik and Avianna Wolfe in their beautiful home this summer. It is always exciting to be able to spend time with people so enthusiastic about the future. The road to opening their distillery has been a bumpy one, but with lawsuits and trademark disputes finally behind them, their success is only now a matter of time. Just this week, Stoll and Wolfe has both state (received in May 2016) and federal permit approvals to distill their whiskeys. Earlier this year, Stoll and Wolfe released their blended whiskey in 40 states. The first iteration was a blend of 75% MGP bourbon, and 25% McKenzie Rye whiskey from the Finger Lakes Distillery while the second bottling replaced the rye with a straight rye from Death's Door. Without a home base of operations, the blending and bottling was being done with their neighbors in Lancaster, Thistle Finch Distillery. Most recently, in March, Erik and Dick Stoll went down to Virginia to Silverback Distillery to distill some of their own whiskey. ( To read more, check out Sam Komlenic's article from Whisky Advocate-http://whiskyadvocate.com/2016/03/25/the-man-comes-around) It was the first time in 30 years that Dick has worked a still, but Erik says he was right back at home. The sweet mash rye whiskey is 60 % rye, 30% corn and 10% malt. I was lucky enough to be able to try some and the sweet, oily white dog was truly wonderful stuff. (Erik poured some from a bottle he kept in his kitchen cabinet.) This will go into 30 gallon #3 charred barrels to age.
Though Erik comes to distilling from a marketing background and has plenty of experience in acting, writing and art, his passion is whiskey. I can completely relate to an artist loving the craft of distilling, being an artist myself. Distilling is a marriage of art and science and crafting great whiskey seems to require a talent for both. With Dick Stoll at the still and Erik managing its production, Stoll and Wolfe is just getting started. Their respect for Pennsylvania's distilling tradition is a beautiful thing.
After talking a while, we took a ride down to the new distillery location. Lititz is a small town, so it was a short, but scenic drive. The town of Lititz has more original colonial era buildings in it than Colonial Williamsburg, so from a tourist's perspective, driving through town was worth the trip alone. The new distillery is being constructed at 35 N. Cedar Street. Well before it became a Sherwin Williams Paint sales office, it was a feed mill and grain elevator with access to the railroad. The bones of the building are all mostly all original with thick, wood board flooring that would be capable of bearing heavy loads of grain. The roof is peaked and about 25-30 feet at the apex where the 12 plate, copper column still will sit. There will be two cypress wood fermenters from Alabama's "Confederate Stills of America" installed as well. The 500 gallon fermenters are crafted from 250-350 year old reclaimed inch and quarter thick cypress staves.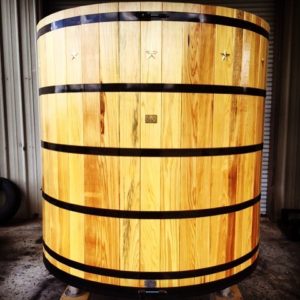 Old school, indeed. You can still see the windows where grain was once dumped from railroad cars along the walls. It's hot in there now, but renovations are under way!
There will be a tasting room complete with plate glass windows that look out onto the street so that passers by can see whiskey aging in barrels. There will be a chef on premises a few months after opening, and locally crafted food will be served. With the new laws allowing for beer and wine to be served, they'll have that as well. Although Erik would love to age his whiskey on location at the Michter's distillery location in Schaefferstown, he has to wait until the site is cleaned and approved for use after a spill there.  I'm very excited to see what the future holds for Stoll and Wolfe. It's been a long time coming, but Lititz will finally see an historic circle being completed. I can't wait! Cheers!