About an hour and a half southeast of Pittsburgh is the small town of Chalkhill, Pa, home to Ridge Runner Distillery. The Laurel Highlands of southwestern Pennsylvania was the seat of the Whiskey Rebellion. Ridge Runner Distillery not only shares property with Christian W. Clay Winery, they share family ties.
Christian Klay, distiller at Ridge Runner, was raised working the winery. His mother, Sharon, is a proud and energetic woman that built up her farm (Fayette Springs Farm) and vineyard around her passion for the property and the land that she fell in love with. She boasts 14,000 vines and when she does source grapes, they are only from within the state. Even after going away to college to study political science and computer science, it seems that Christian's mother's love for the land was instilled in him too deeply, and he returned to the business that he was raised into. Christian's own love was for science and distillation, and he branched off to expand the family business of wine making into the creation of spirits.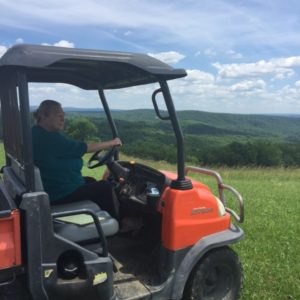 Ridge Runner is currently working to expand their product line. Klay's rum is made from panella sugar and his corn moonshine is made from 95% corn and 5 % barley. There are flavored shines as well- apple pie, peach pie, and eventually a carbonated root beer flavored moonshine. Bourbon is in the works, but will not be made available until the spirit is at least 3 years old. There are 8 53 gallon #3 charred East Coast Wood barrels waiting for white whiskey to fill them. Most of their grain is sourced locally from Weatherbury Farms just north of Washington, Pa, though some is brought in from Bruceton Mills in West Virginia (though out of state, it is very close to them). Klay has plans to make a Pennsylvania grappa in partnership with the family's vineyard. The vineyard is applying for a grant to grow botanicals for bitters and vermouth as well, which will also benefit the distillery.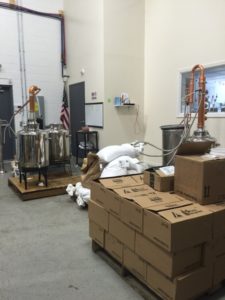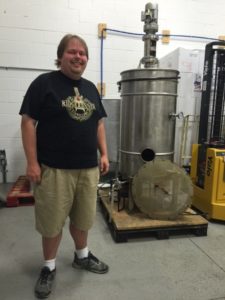 Ridge Runner runs a 300 gallon stripping still and a 50 gallon Hillbilly Still hybrid. Right now they employ a 100 gallon mashtun, but a larger mashtun is on order. Klay has utilized old equipment from the winery for fermentation, but he plans to upgrade as production increases. One of the things I found encouraging was both the winery and the distillery use a natural spring as their water source. They are a bit off the beaten path, but the distillery gained access to city water for cooling purposes by having it piped in. Only the spring water is used in production, even in bottling where it is run through a 3 stage reverse osmosis filtering process first.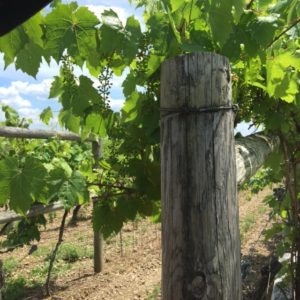 One of the wonderful things about having a winery and distillery on the same property is that all of the events on site have a full bar! Sharon Clay, owner of the winery, hosts weddings, moonshiner parties out in the woods and musical events throughout the year. They keep very busy highlighting local artists, musicians and craftsmen. Their wines and spirits are popular with the locals and with the many tourists in the Laurel Highlands of southwestern Pennsylvania. Tourism comes their way from Fallingwater (Frank Lloyd Wright's masterpiece), Fort Necessity Battlefield and recreational sites like Ohiopyle State Park. Fayette Springs Farm is beautiful and the view from 2350 feet (the highest elevation vineyard east of the Rocky Mountains) alone makes the trip well worth it. I enjoyed my drive up there very much.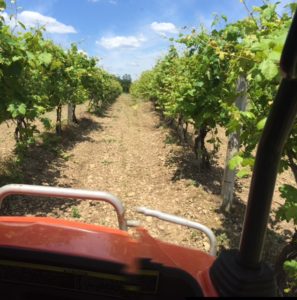 Ridge Runner Distillery
417 Fayette Springs Road
Chalk Hill, PA
(724) 434-6659
www.ridgerunnerdistillery.com
Tues-Thurs. 12-6pm
Friday and Sat. 11-7pm
Sunday 12-6pm
closed Mondays