Her Jamaican rum
And when she did come, I asked her for some.
           -Bob Dylan, lyrics from 4th Time Around
Usually, my interest lies in American whiskey. But before there was whiskey in America, there was rum. The American Revolution's roots are drenched in it. Rum was the drink of colonial America. It was considered a necessity by early colonists, so when the British heavily taxed molasses (the Molasses Act of 1733) and sugar cane (the Sugar Act of 1764), the colonists were furious. Rum was used as currency in trades with the Native Americans and was used as exchange in the triangle trade/slave trade (rum exchanged for slaves in Africa, slaves exchanged for labor in the Caribbean for use in sugar cane production, sugar cane shipped to be made into rum, and so on). It was consumed by everyone, so much so that it is estimated that early American drank the equivalent of seven shots a day. Rum ran through America's young veins. It was only after rum became too expensive to obtain easily that Americans turned to the grain in their own backyards and began making whiskey in earnest.
In the same way that whiskey is beginning to make a comeback in America, there are distilleries that are making an effort to create high quality rum. One of those is Maggie's Farm in Pittsburgh, Pa. (And yes, Maggie's Farm Rum Distillery is named after the Bob Dylan song.)  There aren't many rules dictating how rum must be made in America other than it must be made of sugar cane or a sugar cane-derived product and must be distilled no higher than 190 proof. Most people associate sugar cane with the islands and South America, but sugar cane is a big industry in Louisiana. This is where Tim Russell, the 33 year old founder and distiller at Maggie's Farm, finds his turbinado sugar. Turbinado sugar is partially refined light brown cane sugar similar to demerara but with larger crystals. Tim has immense passion for rum and rum alone, which is refreshing in a micro-distilling world. His focus has given his rum a distinction in a booming spirits market. It's a taste of Jamaica right here in Pennsylvania. His queen's share rum has the honor of being considered the only white/silver rum in North America that should be used to make a true daiquiri. (http://www.eater.com/drinks/2016/5/12/11327350/daiquiri-cocktail-recipe-rum-lime-cuban-drink)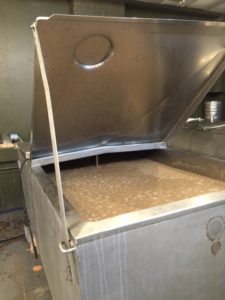 Maggie's Farm Rum Distillery makes a Jamaican style rum using a Caribbean yeast strain. 2- 300 gallon fermenters let that yeast work for 10 days to two weeks on the rum mash. The finished product is smelly, but makes for a beautiful rum.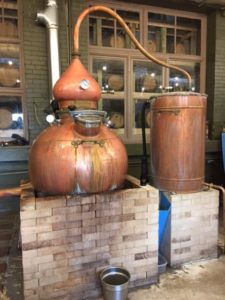 The 400 liter Hoga copper pot still (about 105 gallons), made in Spain near the Portuguese border, will run 6 stripping runs from the mash to produce 2 batches of low wines. The rum is twice distilled to about 130 proof. It is bottled at 80 proof. The owner has plans to install a new 1700 gallon fermenter and another 1000 liter copper pot still to increase output.
The product that struck me most at Maggie's Farm was the Queens Share Rum. It is amazingly flavorful. It turns out that the queen's share is a re-distillation of the tails' cut. For each spirit run, Tim is left with about 15 gallons of hearts and about 8 gallons of tails. He sets aside the tails for a third distillation which is bottled at cask strength as the queen's share. Most of the heavy flavors and congeners that remain in the tails' cut that would be too much for the pure rum spirit somehow become beautifully complex and flavorful when re-distilled. Who knew the end of a rum run could taste so good? I made sure to buy a bottle before I left.  There is plenty of barrel aging going on there as well.  He is experimenting with reused Four Roses barrels and different sized new charred oak as well.  Keep an eye out for what's next with his aged rums…
Maggie's Farm is providing Pennsylvania with its first commercially available craft rum since Prohibition. Their white rum, spiced rum, queen's share rum (both white and barrel aged) and airline overproof rum are available for sale on their website to PA residents. The airline rum is sold in a 100ml bottle at 140 proof, which just happens to be the maximum allowed by law by the TSA! It's great for trips and for mixing a much better rum & coke or rum & ginger than the airline stewards could make for you! I personally love the t-shirt that Tim is sporting in the photo and will be back for one of those…Go down to the strip district in Pittsburgh and stop in for a visit!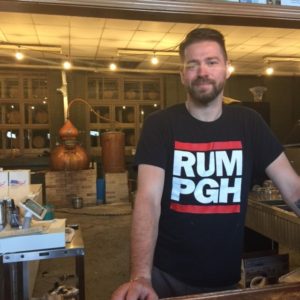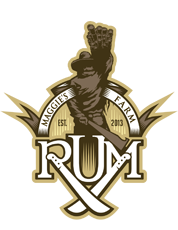 Bottle sales
Wed-Thu 11-7
Fri-Sat 11-10, Sun 12-4
Cocktail Hours
Fri: 4-10
Sat: 12-10
(412) 709-6480
3212A Smallman, Pittsburgh, PA