About an hour and a half north of Pittsburgh is the busy tourist destination town of Conneaut (Con-ee- ought) Lake.  The lake is full of sailboats and the roads are full of trucks with trailers in tow and SUV's full of families.  I pulled into Conneaut Lake on Sunday morning looking for a good distillery.
Conneaut Cellars Winery was already busy offering wine tastings to tourists when I stopped in looking for Joal Wolf.  Joal is the son of Alan and Phyllis Wolf, the original owners and proprietors of the winery, and learned his wine craft from his father.  Joal's father, Dr. Alan Wolf, learned a great deal about wine in the 50's while he was stationed in Germany as an American state department representative.  Those skills were refined back in the U.S. in the 60's while studying at Cornell and the University of Pennsylvania.  The dream of establishing a winery was finally achieved in 1981.  The decision to open in Conneaut Lake was chosen because of the rich historic significance of the area and the cooler climate for grape growth in the northwestern climate of Lake Erie.  It seems appropriate that when Joal bought the winery from his parents, he also felt a strong connection to the location.  Many of his products are named after either local historic figures or after local landmarks.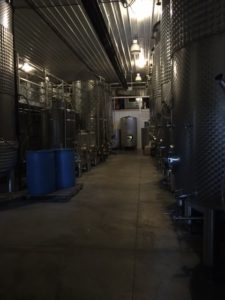 Though the winery is the heart of the operation at Conneaut Cellars, Joal's interest has branched into distilling as well.  The next logical step for wine making is brandy and vodka, after all.   The Catawba grapes that are fermented into wine are then distilled in a single run into brandy.  That brandy is then distilled twice more (to bring the proof past 190) to make their vodka.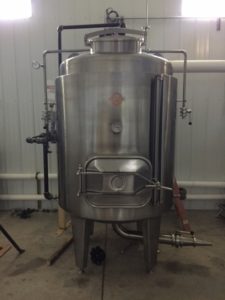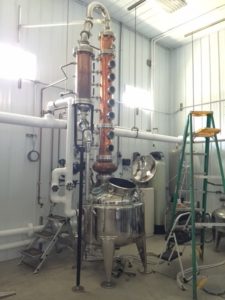 The smaller, (53 gallon) electrically powered still, named Little John, is solar powered and is used to make both brandies and vodkas.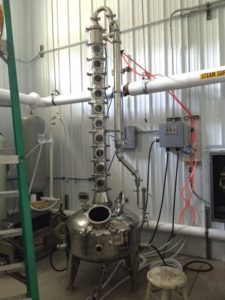 The Cussewago Blanc Brandy is distilled on this smaller still from Vidal grapes which were developed for use in production of Cognac in France. The larger Corsan copper pot still (85 gallon), named Antime, was not up and running when I arrived, as it was waiting for a new agitator.  This newer, steam heated still is running now, however, and is responsible for the whiskey production at Conneaut Cellars Distillery. 
Joal is proud to be following in not only the footsteps of his parents, but also in the footsteps of Pennsylvanian distillers that once called this area home as well.  One of the more famous local pre-prohibition distilleries was Meadville Distillery which went out of business in the 40's.  When his new distillery began production in 2013 down the street from the location of Meadville Distillery, Joal Wolf's was the first to distill spirits in the Lake Erie region since Prohibition.
The future looks bright for this small distillery.  I was amazed by the nuanced and balanced fruit character of their Crooked Creek Vodka.  (I do not often like vodkas.)  Mr. Wolf has formally trained in both Baltimore and Louisville with the American distilling Institute and took courses in distilling at Cornell.  He has a different approach to distilling than the beer guys because of his decades of experience as a vintner first.  He has plans to release his first batch of bourbon in about a year.  This release will be named Halftown, after a local Indian guide that lived in the town in the 1780's.  The next release will be a 2-year-old called Captain Bull, after an historically important Indian chief.  One of the bourbons will be rye flavored (60%corn, 30%rye, 10%barley) and the other a corn heavy, four grain recipe with wheat, rye and barley.  It is my understanding that he means to age his Monongahela style rye whiskey (no corn) for 6 years and release it at 100 proof, calling it Stripe Neck.  Stripe Neck was a local Mohawk Indian that befriended David Mead, after whom the town of Meadville was named.
Conneaut means "the place where the snow lays in the spring" or "snow water."  This young distillery uses the local spring water, after light filtration, to cut proof on their spirits.  It is interesting to see another Pennsylvania distillery embrace and promote the quality of their water sources.  The rivers and lakes of our state have long been praised for the mineral content and contributions that it can make to fermented beverage and spirit production. There's a reason that distilleries were set up in large numbers along our state's waterways.  Conneaut Cellars Winery and Distillery is taking good advantage of a great water source.
I hope to make it back up to Conneaut Lake again in the future (if only to grab another bottle of that vodka) especially to see what is becoming of those whiskeys lying in Canton barrels at the back of the distillery.  I look forward to seeing what the future holds for this very interesting little distillery beside an ancient lake.  Cheers!