So…Metallica has its own whiskey now. Ugh.
Everyone has their own whiskey, it seems. Nothing new, of course. Celebrity sells. There have been celebrities moving distilled products since advertising's infancy. Beautiful people, famous people, successful people…from doctors recommending a brand to silver screen actresses insisting that a brand will make you irresistible…it's all been done. Here are just a few modern celebrities selling booze-
Matthew McConaughy- Wild Turkey and Longbranch Whiskey
Mila Kunis- Jim Beam
Christina Hendricks- Johnny Walker
David Beckham- Haig Club
Dan Aykroyd- Crystal Head Vodka
Ryan Reynolds- Aviation Gin
George Clooney- Casamigos Tequila (though I think he sold that)
Angelina Jolie and Brad Pitt- Miraval Rosé
Drew Barrymore- Barrymore Wines
Kyle McLaughlin- Pursued by Bear Wine
Channing Tatum- Born and Bred Vodka
Justin Timberlake- Souza 901 Tequila
Connor McGregor- Notorious Irish Whiskey
Brett Ratner (director of X-Men and Rush Hour)- The Hilhaven Lodge Whiskey
Bethany Frankel (from that awful housewives show)- SkinnyGirl Cocktails
Blake Shelton- Smithworks Vodka
Ryan Seacrest- Casa Dragones Tequila
Dennis Rodman- Bad Ass Premium Vodka
And it doesn't stop with actors and sports celebrities- There are many musicians too!
Jay-Z- Armand de Brignac Champagne
Sammy Hagar and Adam Levine- Santo Mezquila (tequila/mezcal combo)
& Sammy Hagar also promotes Cabo Wabo Tequila and Sammy's Beach Bar Rum
Bob Dylan- Heaven's Door Whiskey
Billy Gibbons (ZZ Top)- Pura Vida Tequila
Drake-Virginia Black Whiskey
P.Diddy (or whatever he's calling himself now)- Ciroc Vodka
Kenny Chesney- Blue Chair Bay Rum
Darius Rucker (of Hootie and the Blowfish, for those that have no idea)- Backstage Southern Whiskey
Marilyn Manson- Absinthe Mansinthe
Dave Matthews- Dreaming Tree Wine
Maynard James Keenan (Tool)- Caduceus Wines
Ludacris- Conjure Cognac
There are more, by the way. This was just to prove a point. Are these the best or most award-winning brands of liquor? Perhaps not. Celebrities serve as a means to move product. Most people are aware of how important Frank Sinatra was to the success of Jack Daniels' brand in the 50's and 60's.  If you like them, admire them, and want to be more like them, it makes sense that you would want to drink what they drink, right? By that logic, if you like your whiskey with a little heavy metal, Metallica adding their name should help you want to buy (or collect) Blackened American Whiskey.
What Makes This Celebrity Endorsed Whiskey Different?
There a couple things that set Metallica apart from the norm of celebrity advertising. First, they have literally used their music to contribute to the aging of their whiskey. Metallica and Meyer Sound, an audio tech company that designs, engineers and manufactures sound systems, had already engineered a proprietary sub-woofer that could amplify low frequency sound waves that are a hallmark of the band's music. They use these sub-woofers to play "Eye of the Beholder," "For Whom the Bell Tolls," and " The Frayed Ends of Sanity," among other songs, for the barrels. This may sound ridiculous, but the practice of blasting whiskey or wine barrels with sound waves has been scientifically proven to be "effective" in aging spirits. The sound waves from their playlist pass through the whiskey creating cavitation bubbles in the distillate.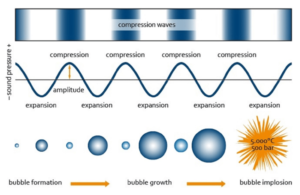 So what the heck does that mean- what are cavitation bubbles? Basically, they are the product of violent movement through liquid. Violent motion rips a tiny hole in the fluid, and when that bubble bursts in a super-heated chemical reaction, it sends shock-waves that break through the liquid. This phenomenon was discovered by scientists in 1895 by observing torpedo boat propellers. In nature, there are species of shrimp that use the quick snap of their tails to stun their prey with cavitation bubbles. Many different industries have been exploiting this natural, scientifically recognized phenomenon in all sorts of ways.
In the food industry, cavitation principles are used to pasteurize eggs. It's also being used experimentally in reducing bacterial and viral growth in food products. Medical technology uses it to break up kidney stones. Brewers of beer, coffee and tea and are using cavitation to extract more flavor from hops, coffee beans and tea leaves. In the distilling industry, some companies are attempting to use cavitation to extract more flavor from charred wood chips for faster aging of spirits. Some believe that the formation of these super-heated bubbles in the liquid within the barrel staves aid in breaking down complex polymers (such as lignin) that would otherwise take years to alter or degrade within the wood and integrate into the spirit.
A scientist at the University of Cadiz in Spain (Valme Garcia) has successfully experimented with ultra-sonic aging of brandies. Brian Davis of Lost Spirits Distillery has said, "It is possible the vibration produced by the waves is rattling some of the lignin and hemi-cellulose polymers around in the wood and causing them to partly degrade into the spirit." A few distilleries think that they can use sound waves to create these cavitation bubbles and replicate "aged spirits" in a few days. Terressentia Corporation has been trying to make "aged" whiskey with these techniques since 2006. Others just want to employ the science in helping the aging process along. Now, don't be too convinced of the effectiveness of this process just because it's been done. Bill Lumsden, a very highly respected wood science and spirit aging expert at Glenmorangie and Ardbeg, says, "It's a lovely story – I like it a lot. However, as a scientist, I really don't take it seriously". Pressed to elaborate, he continued, "Ultrasonic vibrations might make a difference." The difference may be too small to matter much, though.
Using sound wave frequencies to aid the aging of whiskey in barrel warehouses is also nothing new. Tuthilltown Spirits in New York, which makes Hudson Whiskeys, was using low frequency sound with sub-woofers to help whiskey age in small barrels over a decade ago. The owner, Ralph Erenzo, called it "Sonic Maturation". After 2012, they switched to using shakers (the speakers that go under your couch in home theaters to vibrate in conjunction with the on-screen action) that attached to the outside of the rickhouse so that there were no electronics inside the vapor-filled space. The change came after a fire in their rickhouse made them wary of electronic speaker wires inside the aging warehouses that could potentially cause a spark. Electricity and alcohol vapor do not mix. So much for jamming on electric guitars in the rickhouse…
Another distillery that has been using music to age their liquor is Copper&Kings Distillery in Kentucky. Joe Heron has been pumping music with lots of bass into his distillery's maturation cellar since 2014. It is always on, 24-7, all year long. His brandies and absinthes get to listen to Wilson Pickett, Percy Sledge, Aretha Franklin, Otis Redding — even My Morning Jacket and the Doors.
The second thing that Metallica is doing differently, is the fact that they brought in a well-respected distiller to create their product. This is not your run-of-the-mill, quickly purchased, contract distilled limited release in a fancy bottle that would describe most celebrity-endorsed spirits. Dave Pickerell, distiller from Whistle Pig, Makers Mark, Hillrock Estates and the man responsible for many other successful start-up craft distilleries, is behind this project.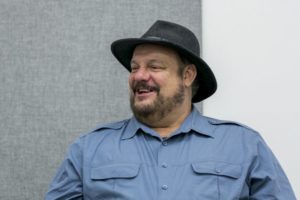 The first release is called "Batch 081" because Metallica was formed in '81. Dave combined rye, bourbon and other whiskeys of his choosing into black brandy barrels. What, by the way, is a black brandy barrel? Jameson has a black barrel whiskey brand, but that's a double charred bourbon barrel…Is this a double charred brandy barrel? I've never heard of such a thing, but who knows? That's a bit confusing…When questioned about which whiskeys were used, he said they were from all over North America, which would hint toward some of the product used being from Canada. Which makes me wonder- Can it really be called Blackened AMERICAN Whiskey if it's not entirely from the USA? He then "finishes" the whiskey by bombarding the barrels with low frequency sound from Meyer Sound sub-woofers. Instead of calling the process "Sonic Maturation" like Ralph Erenzo, he's calling his version of "sonic enhancement" "Black Noise." Same thing, different trade mark, I guess.  Sweet Amber Distilling Company, which sourced the whiskeys used in the blend, was founded by Dave Pickerell and Metallica earlier this year.  They intend to release more iterations of this idea, in 5000 bottle limited series, over time.
So…we've got a great marketing concept, crafted by celebrity musicians and a famous master distiller, wrapped in a bit of BS, and sprinkled with limited availability and excellent PR. This whiskey will likely sell very well. Whether it tastes any good remains to be seen. The nice thing about this product, beyond all the nonsense, is that Dave Pickerell isn't going to release crap whiskey. The man is always doing something interesting and is not in the habit of giving his fans a reason to doubt him.
An odd side-note. Lars Ulrich and James Hetfield have struggled with alcohol and drug addiction issues in the past that have threatened to break up the band. Let's hope they promote responsible drinking while promoting their whiskey.  Their new distillery, Sweet Amber Distilling Co. was founded on 4-20, 2018.  Thought that was an odd coincidence…