Let's be honest, there are really only a few weeks left until Christmas (Amazon only ships until Christmas eve), Hanukkah is underway, and we're all scrambling for gifts! I wanted to put together some ideas that would be helpful to a person that has no idea what to get for their favorite whiskey drinker. There are tons of lists out there, but I tried to put mine together with a personal touch.
#1- When it comes to Etsy gifts, you want to order those early. Personalized gifts, especially. Many may have already seen the whiskey advent calendars out there. There are some pre-made options that are already full of scotch or bourbon/rye samples, but I wanted to show you something I'd found on Etsy that might have a more personal touch. There are more expensive wooden or handmade options for reusable advent calendars for sale on Etsy, as well. You can buy fancy minis of whiskeys (online or in your local liquor stores) to put into the advent calendar or you can fill your own sample bottles with drams from your personal collection and share! (I usually buy my sample bottles from Uline- 4 oz. size should do it! They also sell water droppers for those finicky whiskey tasters out there.) 
#2- This is a bit of a follow up to the advent calendar- Booze balls!
There are plastic or glass versions available of this gift and you can find them on Etsy or Amazon. Maybe it's not so much a gift to someone else as yourself or party guests, but I love these things. You can buy a bunch, personalize them yourself, tie a bow around the top- but you can fill them with whatever you like! Just make sure you get the ones with the screw top and maybe choose the plastic over the glass ones- plastic just makes for safer holiday decorating:) They're both reusable for next holiday, too!
#3- Let's get the Pappy gift out of the way, shall we? Pappy Van Winkle is always going to be a desirable gift theme to a whiskey drinker. The whiskey may be overpriced, but there are lots of options in the Pappyverse…
First, there are many items you can buy on pappyco.com. This site was created by the ladies of the Van Winkle family- Louise Breen and Carrie Breener. You can get just about anything Pappy-related from them.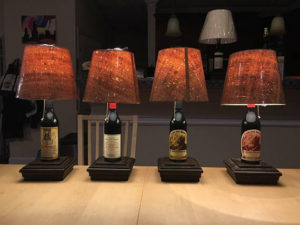 Etsy has plenty of goodies. I personally like the idea of the four whiskey lamps to represent the four main Pappy releases or the money clip. (see pictures- just go to Etsy.com and type in descriptions to find the items) I know I keep going back to Etsy, but they do have a lot of interesting and handmade items that make for great, thoughtful gifts.
There are always t-shirts with the brand logo, but that could work for any brand that your whiskey drinker prefers. T-shirt personalization sites like zazzle.com are great for designing whiskey t-shirts for your loved one.
Last but not least, there is the "But Always Fine Bourbon" book that is written by Sally Van Winkle Campbell, Julian "Pappy" Van Winkle's granddaughter. You can grab this on the pappyco.com website or through any online bookseller.
#4- Anything Prohibition related! I recommend picking up an old prescription for whiskey for your whiskey enthusiast. Whiskey drinkers tend to have their nooks or bars or basements decorated with whiskey paraphernalia and this will fit right in!
This is an Ebay purchase, for sure. During Prohibition, prescriptions were required to get your whiskey fix. Every ten days, you could pay your pharmacist a few dollars for a prescribed pint of whiskey. So, believe me, there are plenty of these out there, but that doesn't make them easy to get!
Go to Ebay.com and type "prohibition prescriptions" into the "search for anything" bar. (You may want to click the "Buy it Now" button at the top to avoid bidding on anything.) You can add your town name as well to see if there is a more personalized version or just search for local prohibition related items. You can get a Carrie Nation cast iron decorative axe or an Al Capone death certificate or any number of cool whiskey-related items!
These prescriptions are about 5×7, so you can grab a small frame for it pretty much anywhere. It's always nicer to get the thing professionally framed, but there's not much time with shipping. Anything Ebay-related always has to be picked up early in the buying season! Good luck finding something amazing!
#5- Why not drop some coin on your whiskey-loving loved one? There are some beautiful creations out there that are made from whiskey barrels that would be a beautiful addition to anyone's whiskey parlor, cocktail den or drinking nook. Honestly, for the amount of work that goes into creating whiskey barrel furniture, the prices are incredible! You can get anything from a table & chairs to a bourbon barrel dog bed!
Check out barrel-art.com or check out https://www.facebook.com/Wine-and-Whiskey-Barrel-Home-decor-406911412780941/ 
#6- Get them a Whiskey Rebellion flag! This can either be framed, hung on the wall as is, or hung outside. The Whiskey Rebellion was an epilogue to the American Revolution and is a serious bit of our nation's history. It's also a big part of Pennsylvania's history and the history of whiskey in the US. If you're not sure about the history and you think the whiskey enthusiast in your life might like to know more, why not get them a book to go with it?! A good one is The Whiskey Rebellion by Thomas Slaughter- https://www.amazon.com/Whiskey-Rebellion-Front…/…/0195051912
You can buy a cotton or a polyester version on Amazon.com or from lots of smaller sellers. There's a distillery in Pennsylvania called Disobedient Spirits that has rye whiskey with the date of the rebellion on the bottle that could make a nice supplementary gift.
If you don't think your whiskey fan would like a flag, but would like the theme, you can pick up a t-shirt or a pillow or a throw, etc at https://fineartamerica.com/featured/whiskey-rebellion-flag-george-pedro.html?product=fleece-blanket&blanketType=blanket-coral-50-60&fbclid=IwAR1BB8159e1OneGl00wzk8AZ8vad6uGPPlCNyn1WjznSQzo0PqTGwYxZLq0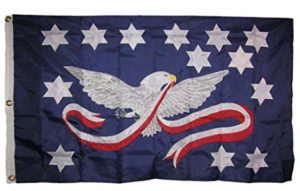 #7- Wooden whiskey glass. Maybe glass isn't the right word, but these are pretty cool even if they aren't the standard rocks glass. They make for a great addition to any drinker's collection. There are many different options on Etsy by small shop woodworkers.
https://www.etsy.com/…/wooden-goblets-set-medium-whiskey-bo…
One option that costs quite a bit more, but is charred on the inside and shaped like a barrel, comes all the way from Europe. So what if there is no real reason to use this glass or if it doesn't really work…it's a cool gift! http://joelairdwoodturning.com/home-page/whiskey-tumblers/
Here's another cool one-
https://www.etsy.com/listing/610808979/personalized-groomsmen-gift-wooden-mug?ref=related-9&fbclid=IwAR1pFiGh8hE7TtQRVeBuHviJPiH5_IMzA6-vaqJMdawjw6CGb-XRxwOCyGY

There will be more posted next week! Happy shopping!