Sometimes the long drive between two Pennsylvania distilleries can take you on an unexpected route. I wound my way through northwest Pennsylvania between Conneaut Lake and Kane on very isolated (and sometimes dirt) roadways past Pennsylvania Dutch settlements. I'm from the eastern part of the state where Lancaster and the surrounding countryside is home to many PA Dutch towns and villages. I was taken by surprise to see young ladies and children walking their bikes up steep hills with their packages only to ride them down the other side on these western roads. Views of farmsteads and front yards filled with families meeting for picnics and brimmed hat and bonnet wearing parents pushing small children in strollers up long winding roads made for a slow trip. I wondered if they would disapprove of my eventual destination being a distillery…I wondered how many of them realize that their ancestors were just as responsible for our country's whiskey history as the Appalachian mountain dwelling distillers who once made moonshine in the woods further south…(not to say they've stopped!)
When I finally located CJ Spirits deep in the Allegheny National Forest, I was happy to be greeted by Mr. Tom Jones. His big hand shook mine, and he led me into the distillery through the loading garage door. This building, at the end of a long drive, was built specifically to house this distillery. Tom Jones and his lifelong friend, Sam Cummings, Jr., are partners and owners of everything here. Sam was born and raised there in Kane, Pa. and Tom is from down the road in Warren, Pa.  Sam's family (Sam included) have been in the funeral home business for decades.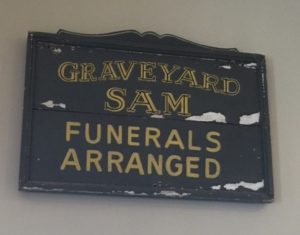 The logos on the whiskey bottles and t-shirts depicting a skeleton raising a bottle of liquor give away Sam's sly sense of humor. These two men were very interesting and fun distillers to meet and spend time with.
Tom showed me around the distillery, and I was immediately drawn to the Artisan Still Design hybrid still's copper sheen.  The 300 gallon, stainless steel pot has a custom copper still head, and its copper lines lead toward two different columns- one copper and one taller stainless.  It's an impressive setup!  This hybrid design allows them to make many styles of spirit- vodka, gin, rum and whiskey. 
The bourbon that they are making is 60-65% corn with rye and malt, the corn and rye being sourced from Greendale Farms a few miles away.  (The malt is bought from Briess.)  The young, baby bourbon has aged for 6 months in 25 gallon Kelvin cooperage barrels, char #3.  The 53 gallon barrels of bourbon won't be bottled until they are 4 years old.  Graveyard Sam's rye whiskey is 70-75% rye content with a small amount of corn.  Each whiskey spirit is distilled to about 150 proof and brought down to 125 proof for barreling.   Whiskey seems to be the main interest here, but these gentlemen are working on many other things as well.
Wilds Vodka, which gets its name from the Allegheny National Forest that surrounds them, is a corn based vodka that is cut to proof with pure Allegheny spring water. Wilds gin is the same mashbill but with the addition of juniper, cucumber, coriander and other botanicals.  It's very clean and crisp with the light touch of cucumber. Their Rocksov Vodka is a rye based spirit that has won them plenty of accolades.  The vodka that garnered most of my attention was their Leek vodka.  Kane, Pa is known for its leek festivals and leek production, so Sam gave a nod to local tradition by creating a Leek vodka.  The vodka, dropped in proof, passes through a gin basket full of leeks to infuse itself with its "essence." And believe me, it's there!  Interesting to say the least!  All I could think was Bloody Mary… Oddly enough, the gin basket is only used for the leek infusion and is not used to make their gin!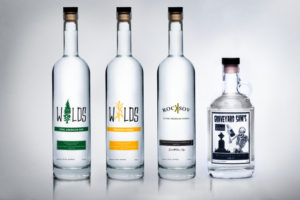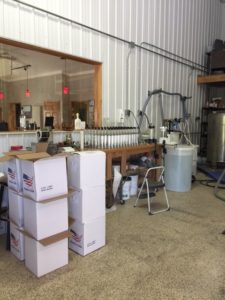 Another interesting connection to the local area is CJ Spirits' 6 Rum.  It's named after route 6 which runs right through Kane, Pa.  The label bears the state route symbol.  It is made from molasses and is finished with black cherry hardwood staves.  It just so happens that Kane and the Allegheny forest is the black cherry capital of the world!  These guys love their local- local grain sources, locally designed and printed labels, local spring water, local wood, etc.   It's exciting to see this distillery embracing both its modern and historic roots.  I hope they become an inspiration to others.
I had a great time visiting and talking with Sam and Tom.  Aside from tours and tastings, the distillery also has a restaurant.  I had some pretzel bites and dip to gear up for my next stop.  Many of the people that stop by are campers from the state park, locals or people like myself with an interest in PA distilling.  I recommend taking a drive out to Kane to pay a visit, staying a while, and sampling some spirits with some good conversation.   I often wear my long sleeve Graveyard Sam's t-shirt to represent for Sam and Tom with PA pride!  Cheers!
CJ Spirits
120 Willow Run Drive
Kane, PA 16735
info@cjspirits.com
Wednesday and Thursday: 11:00 AM to 9:00 PM
Friday and Saturday: 11:00 AM to 11:00 PM
Sunday: 10:00 AM to 5:00 PM
814-837-1500