Vandegrift Distilling Co.
Vandegrift Landing & Allenport, Pa.
Carroll Township
Washington County
RD# 49, RD #29
23rd District
Founded with California gold rush profits, the Vandegrift Distillery in Washington County became one the most influential distilleries in the Monongahela Valley. The earlier members of the Vandegrift family to cross the Atlantic did so over a century before the American Revolution, which gave their surname distinction in the colonies. It's little wonder that the distillery established by the Vandegrifts in Pennsylvania would hold such a position of respect among its peers. The reputation for fine, Monongahela pure rye whiskey would remain connected to the Vandegrift name well into the 20st century.
The surname, Vandegrift, is Dutch and locationally derived, meaning "someone who dwelt near the canal or moat." The Vandegrift family of East Bethlehem Township, Washington County could trace their roots in the New World back to the mid 17th century when their ancestor, Jacob Leendertson Vandegrift, left Holland to settle in New Amsterdam (New York). Perhaps it was the family's connection to new waterways that drew Solomon Vandegrift away from his home in New Castle, Delaware in the early 1800s. Solomon, a skilled carpenter, moved his family into Pennsylvania where he finally settled near the mouth of Barneys Run, a tributary of the Monongahela River that empties its waters just north of Frederickstown. Solomon's son, James Vandegrift, stayed in this place his entire life, working as a millwright, and operating a mill there. James' son, John Hoen Vandegrift, would make his family's surname famous not just in Pennsylvania, but around the world. John began his working career as a carpenter but would earn his place in history as a distiller of some of the finest rye whiskey ever made.
James Vandegrift worked as a millwright alongside a younger miller named William Park Boyd. William married James' daughter, Elizabeth Georgetta Vandegrift. William and Elizabeth's first son was named James Vandegrift Boyd. Their second son was Jesse M. Boyd. Jesse, born in 1846, would find his life and his career very interwoven with that of John H. Vandegrift. The two men shared similar paths.
In the mid-1860s, John H. Vandegrift and his brothers, James Monroe and Jesse Morris Vandegrift, went west to seek their fortunes in California. John's daughter, Mary Elizabeth, was born in California while they were living there. John and James returned home after a few years, but James remained behind in El Dorado County, Ca.* where the family owned a quartz mill about a mile and half north of Nashville (California, not Tennessee!). When John and his younger brother, Jesse, returned from their vocation out west, they founded the J.H.Vandegrift & Bro. distillery. John James returned from California in November 1880 after many years away from home. He had been around the horn of Africa five times and related elaborate stories of mining camps, canyons, and ocean voyages to local journalists eager to listen to him. The year after James' return, the distillery's capacity was enlarged to 200 bushels of grain, producing 800 gallons per day. There was storage capacity for 10,000 barrels in its warehouses and about 900 head of hogs were fed on the distillery's waste. It was not the largest producer in Western Pennsylvania, but the Vandegrift & Bro. Distillery on Vandegrift Landing at the mouth of Barney's Run certainly rivaled them for quality and name recognition during the early 1880s.
In 1883, James Vandegrift, the father of the Vandegrift brothers, died. Jesse Vandegrift accepted a position with the US government building locks along the Columbia River in Oregon. It was during this transition that the distillery began to face the possibility of financial collapse. The firm had taken on large contracts in 1881 based on the low prices of grain at the time. Unfortunately, those prices rose as whiskey prices dropped and the Vandegrifts took on debt filling those large contracts. The liabilities reached around $17,000 while their estimated distillery value was about $25,000. The distillery did not close, so it appears that the brothers were able to cover the debt without selling. This may have been the moment that John H. partnered with J.M.Boyd. As if the financial woes were not enough, the Women's Christian Temperance Union retained council to appose J.H.Vandegrift & Bro.'s efforts to attain a retail license to sell in quantities of less than a gallon (by the quart). The judge went back and forth with the decision, ultimately denying Vandegrift's license application siting the Act of 1858 prohibiting distillers from selling liquor by the quart. It was a big win for temperance warriors looking to limit the number of retail establishments that could exist in and around Washington County. Transition was unavoidable.
In 1886, Vandegrift & Boyd leased the grist mill of George C. Maxwell in Allenport with the intention of rigging it out for a distillery. The Vandegrift family was beginning to see large returns on their oil field investments and John was ready to turn his attentions elsewhere. John and Jesse sold their property at the mouth of Barney's Run to George L. Hill, who was serving as treasurer for Washington County . Hill retained the name of the distillery when he started the stills again in the spring of 1887. The distillery under construction at Allenport was named the Boyd Distillery, favoring Jesse M. Boyd. In the midst of transition, neither of the Vandegrift connected facilities, or any of the other distilleries along the Monongahela River for that matter, could have been prepared for the devastating flood that would hit in 1888. All would suffer severe damages. Boyd's Allenport location lost its hog pens, faced damage to its equipment, and every barrel in its warehouses below the flood line floated in their racks. (Curiously, every barrel's bung sat on top as it sat in its rack before the flood, but after floating, each barrel's bung now pointed down and, though they had not lost their contents, had to be righted to avoid any leaks.)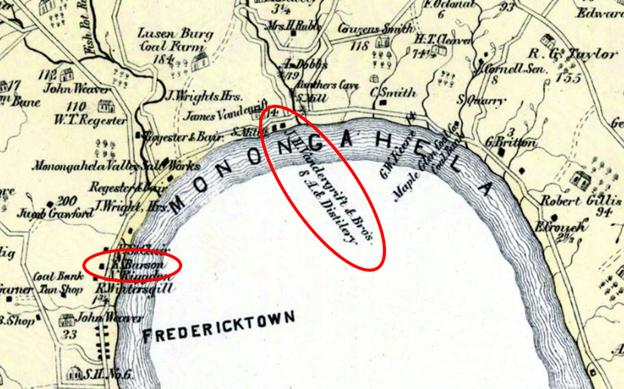 The Vandegrift Distillery at Vandegrift's Landing above Fredericktown came under the management of Gilpin & South around 1889. The superintendent of the facility, however, remained George L. Hill. Gilpin and Taylor South were doing business under the name Vandegrift Distilling Company.
The Pittsburgh Post-Gazette placed a feature article in their paper in May 1892 describing the largest and most famous of the western distillers with a subtitle stating "In High Grade Rye Whiskey Pittsburgh Leads the World." They wrote about Vandegrift Distilling Company:
"Among the earliest products of the Monongahela Valley to acquire fame and earn fortune for the manufacturers was the fine rye whiskey made by primitive processes of our grandfathers from choice grain and malt, and under the name "Old Monongahela." From the beginning the greatest skill and care was lavished upon the distillation, storage,maturing, and handling of this grade of liquor, and some of the noted brands were, and are, as highly prized as any of the high-grade Scotch and Irish whiskies. Discriminating customers generally give the preference to rye over bourbon and all other whiskies, for the very sufficient reason that it is more wholesome and less liable to breed evil consequences, etc, so that those who use it in moderation need no fear of after ill-effects. Among the well-noted distilleries was the Vandegrift Bros. To them succeeded in November 1889, the Vandegrift Distilling Company, of which Furman South is the general manager with offices at 134 Water Street. The plant situated at Vandegrift's Landing on the Monongahela River comprises a complete and extensive distillery, containing three stills, capable of handling 250-500 bushels of grain and producing 25-50 barrels a day, connected with which is a three-story warehouse, 60×150 feet, with capacity for 10,000 barrels. This structure, erected in 1891, embraces all modern improvements, is heated by steam throughout, and thus insures a uniform temperature, indispensable to the rapid and equal maturing of spirits. Three boilers supply steam for this purpose, and for a 150-horse power engine that drives the machinery. The company's sole specialty is pure rye whisky of unquestionably high grade, made from the best rye and barley malt obtainable and their entire output 5,000 barrels per annum is disposed of without difficulty in New York, Eastern Pennsylvania, Ohio and very largely in Pittsburgh. Every barrel bears a label signed by the United States storekeeper in charge of the warehouse, certifying that the contents of the package is produced from rye and barley malt only. Since the fall of 1889 this company has produced over 7,000 barrels of pure rye whiskey, which was promptly placed in the hands mainly of leading Pennsylvania jobbers. The spirits are shipped daily to Pittsburgh by steamer, and thence distributed by rail to points east, west, north and south."  (Pittsburgh Post-Gazette, May 3, 1892.)
Later in the year after the publication of this article, the company added another 60'x96' warehouse capable of holding another 7,000 barrels.
The early 1890s marks the transition of leadership at the Vandegrift distillery in Allenport from father to son. John Hoen Vandegrift, struggling with debt, remained financially interested as a silent partner in the company, but stepped aside as his son, John M. Vandegrift, who was in his early 20s, took the reins. When Jesse M. Boyd died in 1900, the distillery name was changed to the J.M.Vandegrift Distillery. John M. Vandegrift ran a tight ship with very conservative production policies. He only produced enough whiskey to replace the whiskey released from bond that they had paid taxes upon each year. The revenue collector for their district wrote in 1903, "Gentlemen: The records of this office show that you had in your warehouse on October 1, 1899, a total of 11,667 barrels and that you had in your warehouse on Oct. 1, 1903, a total of 12,752 barrels. Yours respectfully, D.B.Heiner, Collector." (Wine & Spirits Bulletin (Louisville, KY), Jan 1, 1904) The company continued to inform the industry that they had no intention of deviating from their conservative accounting methods and would take all precautions to maintain the value of their product and the insurance of profit for their shareholders. Vandegrift's Allenport distillery ran smoothly and profitably until the second week of January in 1908.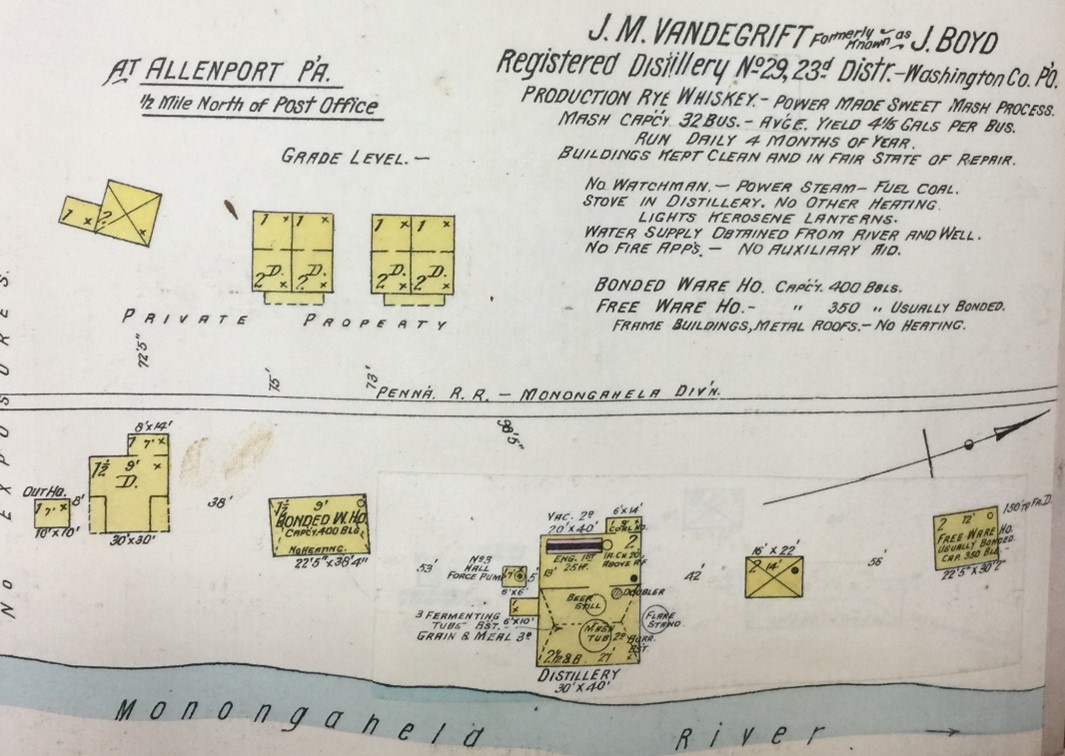 At around 6pm on Wednesday, January 8, 1908, 38-year-old John. M. Vandegrift left his home at Allenport to travel to Charleroi. While crossing the railroad tracks about 50 feet away from his house, he was watching the approach of a freight train on the northbound track but was oblivious to the approach of a southbound express train when he crossed. The express train's engineer did not even see him to stop and passed completely over him. 5 minutes after the devastating accident, Victor Miller, a friend of John's, discovered his scattered remains and only concluded the identity of the collision's victim by searching the corpse's pockets. John's tragic and accidental death left his estate entirely in the hands of his wife, who was ill when he was killed. John's last will and testament, which was signed on August 10, 1903, stated, "I give, devise and bequeath unto my beloved wife, Julia A. Vandegrift, her heirs, and assigns forever all of my property, real, personal and mixed, of whatever nature or kind, whatever the same shall be at the time of my death and I do nominated, constitute and appoint  my said wife, Julia A Vandegrift, sole executrix of this my last will and testament."  Problems arose almost immediately because John's father had been acting as a silent partner in the firm, but his son's will left him no rights to the distillery property or its business affairs. John Sr. sued Julia to regain his role as partner, but the courts denied his efforts because there was no legal paperwork connecting him as partner. The judge's ruling stated, "That a court in equity will not aid in the enforcement of an illegal contract but will have the parties where they have placed themselves." It was revealed in court that John Sr. had outstanding debts and that his son had created the dormant role in the business for his father to keep him safe from creditors.
A little over a year after the passing of his son and at the age of 80, John H. Vandegrift followed his son. These deaths created a great deal of ill will between John Jr.'s sisters and his widow. The sisters purchased a burial plot next to that of their mother and brother to inter their father. They then removed the tombstone of their mother with plans to cut the new inscription "S.J. Vandegrift and J.H. Vandegrift" and planned to exhume the remains of their mother and place her on their plot beside their father. Julia A. Vandegrift sued the stone cutter and Edith Vandegrift's eldest son for malicious intent for removing the monument. Julia insisted that the sisters acted maliciously, but the jury found the defendants "not guilty", though they were forced to pay court costs. Julia would remain the owner of her late husband's Allenport distillery even after she remarried to Benjamin F. Crawford, pioneer steamboat riverman of Jefferson Township and Allenport. The distillery is listed as the "Julia A. Crawford Distillery" after 1914.
The distillery near Fredericksburg was facing its own complications in 1910 as their license application was opposed by B.F. Jones, president of the Vesta Coal Company. Jones was the head of the firm Jones & Laughlin of Pittsburgh, one of the largest independent steel companies in the world. The Vesta Coal Company was undergoing the construction of about 60 houses in a complex to support their large bituminous coal mine operations near Fredericktown. Jones attacked the distillery for being located near the houses they were building and for potentially causing the drunkenness of the workers that would eventually live there.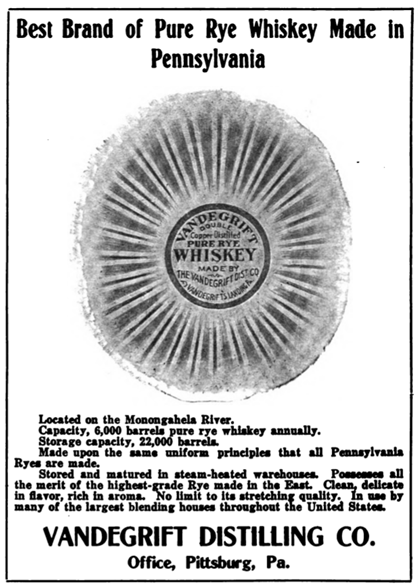 Both the Vandegrift Distilling Company, Inc. at Vandegrift Landing (South brothers) and the Julia A. Crawford Distillery in Allenport continued to manufacture rye whiskey until 1916. In 1917, they were no longer producing, but were selling their stocks in anticipation of the grain limitations that would come with the war effort. In 1918, they applied for licenses to sell again, but were denied, forcing them to sell off their stocks of whiskey before May 1st of that year. Not all of the whiskey was disposed of, however, and this led to a number of warehouse robberies.
One famous example was the theft of 32 barrels of whiskey from the South Brothers' Vandegrift warehouse by Agostino Spinozzi and Adam Santori in the fall of 1919. Spinozzi was apprehended in La Havre, France by French authorities for evading the emigration laws and Pennsylvania's state department sought to have him extradited. The whiskey stolen was assessed to be worth about $18,000 and Spinozzi was known to be carrying $30,000 when he left New York. The South brothers would still be required to pay the government taxes on the stolen whiskey because it had been removed from their warehouse. A second raid of the South brothers warehouse took place in July 1920 by thieves with West Virginia license plates. These were believed to be the same criminals to rob the Emery Distillery. All 9 guilty parties admitted to the theft, 2 of whom were officers of the law. A less impactful, but successful theft was done using an auger to bore through the floorboards and into 2 or 3 barrels to drain their contents. In December of 1920, there was a gun fight with government agents after yet another attempt to rob the warehouse. These thieves paid the watchman $1,479 for access to the warehouse and escaped with 34 barrels only to be caught up in a gun battle with Federal Prohibition agents during their apprehension.
Both Vandegrift distillery locations were closed by Prohibition and would not reopen. The Vandegrift Distillery and its warehouses were purchased by the Weiner Group during Prohibition. The Weiner Group (Morris Weiner, president; Irwin Weiner, vice president; Joseph Steinman, secretary and treasurer) also owned distillery properties/brands like "Guckenheimer" and "Old Economy" and, most notably, the Cosmopolitan Warehouses, Inc. concentration warehouse in New York. (click HERE to read about concentration warehouses) "Old Vandegrift" was patented by the Weiner Group as a brand produced by their Pennsylvania Distilling Co., Inc. in Logansport, Pa in 1933. After Repeal, the Weiner Group's Pennsylvania Distilling Company manufactured and bottled their famous brands in Logansport until a devastating fire consumed one of the property's bonded warehouses in 1939. Estimates on the financial losses from the blaze were anywhere from half a million to a million dollars.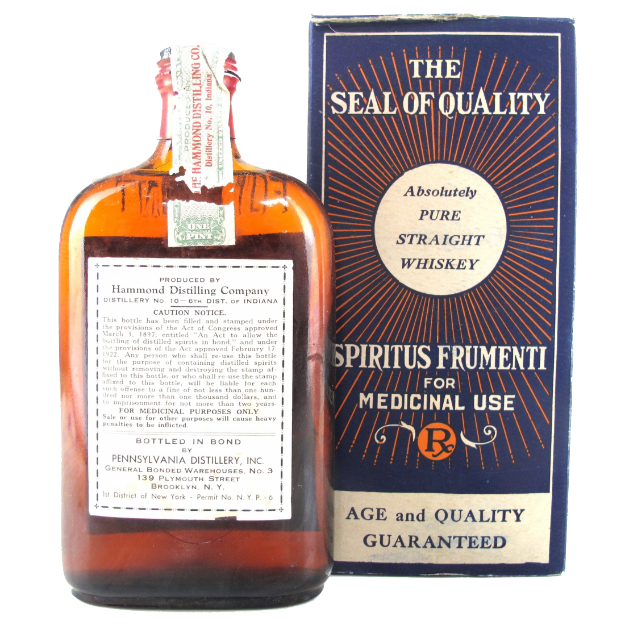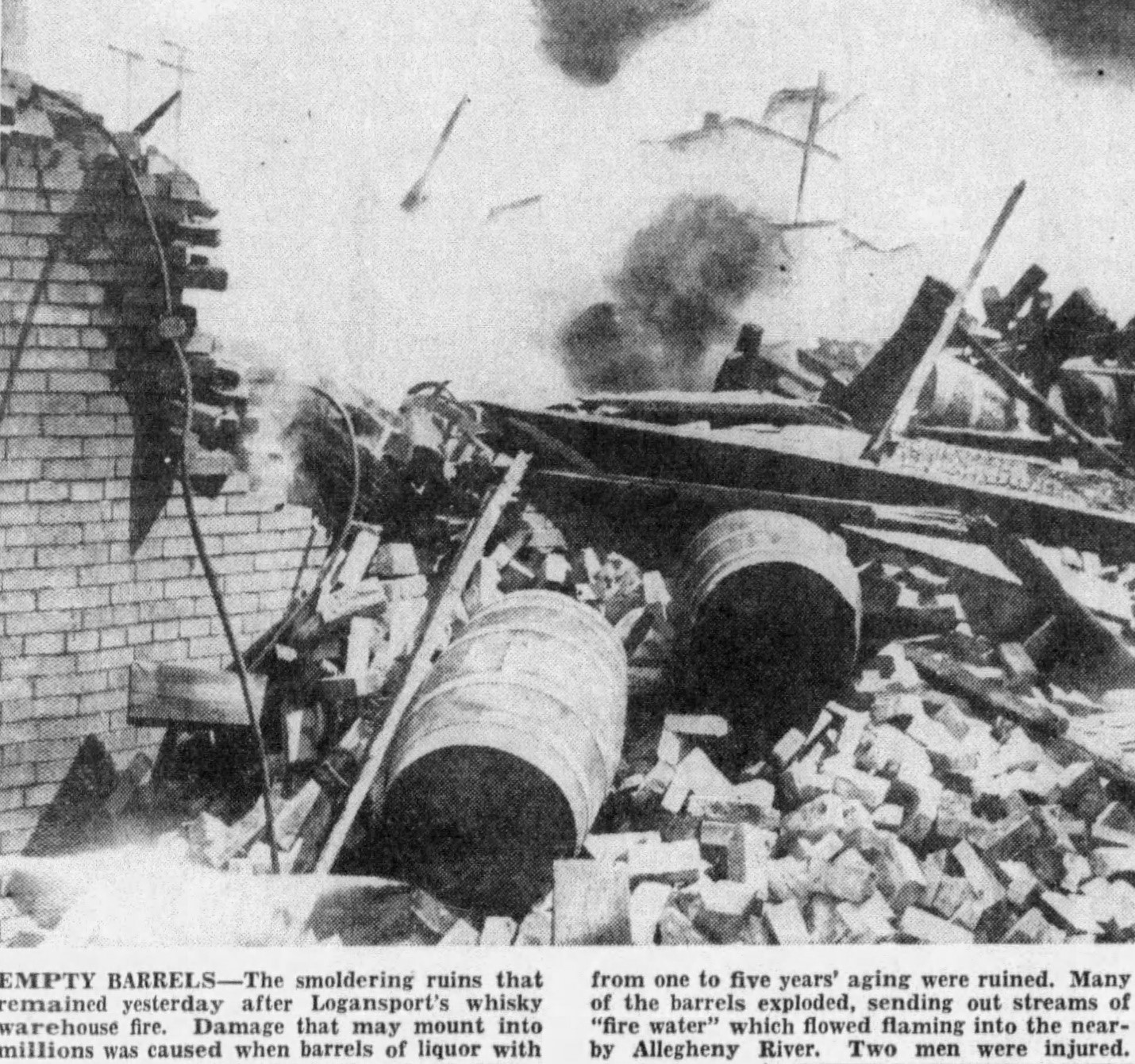 The major stockholders in the Logansport Distilling Company, Morris and Irwin Weiner, dissolved their partnership in 1941 and the company was sold again. Its new president was Adolf H. Hirsch**. Hirsch and his partner, Samuel Glass, used their plants in Logansport and Schaefferstown (Penndale Distillery) to produce industrial alcohol during WWII. By 1947, the board of the $6.6 million Logansport Distilling Company was preparing to liquidate its assets. The report sent to their stockholders vaguely explained their reasoning, saying that "prior to the war, products such as those manufactured by the company were sold in a highly competitive market and there were many instances of price cutting which affected the industry…In the post-war period, this condition may again prevail, and it is again possible that it will be intensified due to increased productive capacity." In 1948, the plant was sold through the War Assets Administration for $45,000 to Schenley. The transfer of the Logansport Distilling Company's assets to Schenley was convenient because Hirsch had just taken on a position with their company, even if for a short while. The Vandegrift brand remained dormant until 1957. Hirsch's old partner, Samuel S. Glass, reacquired the Schaefferstown Distillery in 1957 from Kirk Foulke who had owned the facility since 1950 (Foulke bought the property from Schenley.***) S.S.Glass re-launched the "Old Vandegrift" brand in 2 variations- a six and a nine-year-old bourbon whiskey. The brand served as the headliner for Glass' new liquor brand portfolio. The distillery was re-named "Pennco Distillery" and "Old Vandegrift" was manufactured until at least 1964 when the company ceased to advertise for it.
The Vandegrift brand was ultimately discontinued after 1964. Nearly 100 years of the Vandegrift name being synonymous with excellence in whiskey-making and holding its place as a major Pennsylvania's whiskey brand, had come to an end. It was retired with so many other 100-year-old brands like it. Only time will tell if Pennsylvania will brush off the dust and return "Old Vandegrift" to prominence once again.
*El Dorado sits upon California's Mother Lode. This is the famous vein of gold stretching 120 miles and 1-4 across through the Sierra Nevada Mountains.

**Adolph Hirsch is famous in Pennsylvania for being the name behind the famous 16-year-old A.H.Hirsch Straight Bourbon Whiskey that was made by Michter's Distillery in the 1970s and was bottled in the 1990s.

***Schenley sold their Schaefferstown distillery location but maintained possession of the Logansport Distilling Company's other assets, namely the plant in Logansport. They changed their Logansport-based facility's name to the Joseph S. Finch Company. It would serve as a satellite location for their plant in Aladdin/Schenley, also known as Joseph S. Finch. Presumably, the name change was done to utilize the bottling lines at both locations for the same products without having to specify which on their labels.