I had the good fortune to meet Zachary Cohen and Brian Forrest in March of last year at the American Whiskey Convention at Citizens Bank Park. They had not bottled any spirits as of yet, but they had been hard at work for more than 6 months getting Red Brick Craft Distillery up and running in the Kensington neighborhood of Philadelphia.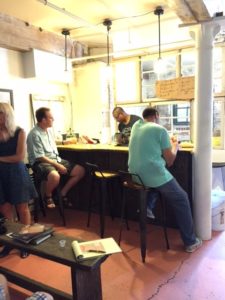 Zach worked with Deer Creek Malt House to prepare an educational display for the event that showed the amount of grain that went into a shot and a bottle of whiskey. Even without spirits to pour at the event, he certainly made an impression. He feels strongly about supporting local farmers and grain producers, so we had plenty to talk about.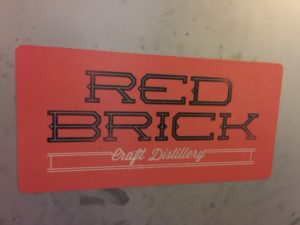 Zach leased the property on Martha Street in Kensington in October of 2014. What once was a woodworking shop would become Red Brick Craft Distillery. Both Zach and Brian are whiskey men that share a love for malt and oak. Because their whiskey demands patience, Brian also cooked up a simple white sugar shine that could be used for cocktail mixes and sipping while their whiskey ages. After learning that Zach is in the midst of completing his PhD in clinical psychology, his talent for patience made perfect sense! It turns out that their malt whiskey, which had been crafted from four different malted barley varieties, was just reaching maturation in 5 gallon barrels when I arrived at the distillery in July.  Zach was going to bottle one barrel for his wedding which was only a few days away. What an exciting time to meet with them again and congratulate them on their progress!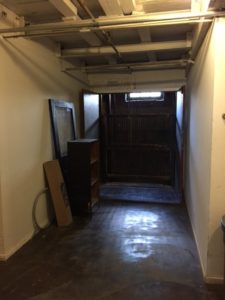 On a tour of the distillery, Zach began by pointing out his bags of barley. Their whiskey is 100% malted barley, but is a combination of malts. His combination involved malts from Double Eagle Malt House in Huntington Valley, Pa, Deer Creek Malt House in Glen Mills, Pa, some from the Country Malt Group (multiple locations), and some New Englander malt from outside of the Boston area near where he grew up.  Zach loads up his pickup truck with bags of malt whenever he visits his family back home, and the addition of this malt to his "wedding whiskey" seemed perfectly appropriate. Next we looked over his 2- 130 gallon mashtuns where the grain is carefully cooked for optimal sugar conversion.
The mash is lautered and then transferred to their 300 gallon fermenter where a hand picked beer yeast is pitched. Their still is stainless with a copper lyne arm. Zach reminded me that the copper needs to be cleaned fairly often for good interaction with the spirit.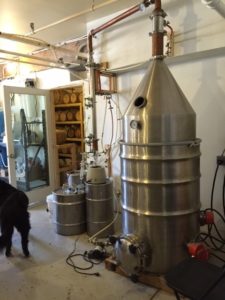 Once the spirit is distilled twice, it is placed in small 5 gallon barrels for aging. Now, here is a bit of genius. Brian rigged cooper pipe to to snake its way through their "spirit aging closet" so that hot water recycling off the still would pass through the pipes and heat the aging room like a sauna! I was amazed to see this clever use of heated water that would otherwise be drained off! The aging room is small, but the small barrels are stacked to the ceiling. I was prepared for the small barrels to create over-oaked whiskey, because that's the drawback of using these small wooden barrels.  I was wrong!  After tasting a bit of Zach's "wedding whiskey,"  I was shocked by its beautiful youth and nuance. This barrel proof version was a mouth full of chocolate covered cherries and rich maltiness.  Somehow the oak was not a heavy presence in the spirit.  At only about 6-7 months old, their first whiskey was a genuine pleasure to taste.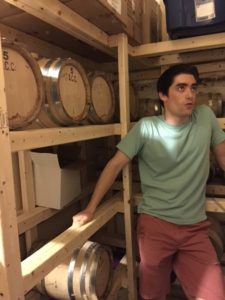 Another wonderful thing about Red Brick Craft Distillery is that they are supporting other local entrepreneurs. A young man just outside of their neighborhood is working on creating a cooperage (creating barrels) in Philadelphia and they are using his 5 gallon barrels to age their whiskey. Their other barrels are being shipped in from Bubba's barrels in Knoxville, Tennessee. You can watch a video of some of their barrels being made by hand at https://www.youtube.com/watch?v=ajHjJMb2AWw. I highly recommend watching this video.
Red Brick Craft Distillery is about to celebrate their two year anniversary! Go over and visit them and see for yourself how an idea has become a reality for a clinical psychiatry student and a glass blowing artist. It is exciting watching a new distillery grow and succeed and make a name for itself in this booming industry. Cheers, guys!
RED BRICK CRAFT DISTILLERY
The tasting room at RBCD is open every saturday and sunday from 1pm to 5pm. Tours are available both days starting at 1pm, 3pm and 5pm. In our tasting room, our bartender serves amazing craft cocktails made with the freshest ingredients. Just call (267) 603-3790 or email brian@redbrickcraftdistillery.com to reserve a spot.
– Brian and Zach