Everyone has a flavor experience that they will never forget. I have tasted many whiskeys, and have had many memorable tasting experiences. But I can assure you , that none of those experiences was quite like the one I had at McLaughlin Distillery in Sewickley, Pa.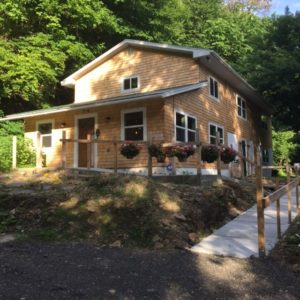 McLaughlin Distillery is tucked into the woods just outside of Pittsburgh, Pa. It is far enough off the beaten path that there is a sign at the base of the driveway that reads, "Welcome. Yes, This is it!" The distillery is up a gravel driveway away from the road and looks more like a cozy home than an industrially zoned facility. As it turns out, the entire building was gutted, stripped clean and rebuilt by hand. The man responsible for everything from the reconstruction of the building itself to the creation of the spirits within is Kim McLaughlin. An ex-Marine that came from dairy farming and worked in the oil and gas industry, he is now a grain to glass spirit craftsman. It may be a small distillery, but the story behind the man in his distillery brings to mind American characters from folklore like Paul Bunyon, Johnny Appleseed and Davy Crockett. What other distiller do you know that literally built his distillery from the ground up, cuts down his own trees for lumber that he uses to build his own barrels with hand tools and then crafts his spirits from locally sourced grains?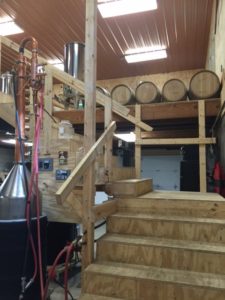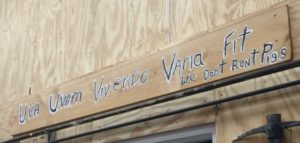 There is a quote over a door in the distillery that reads-" Uva Uvam Vivendo Varia Fit- We Don't Rent Pigs." This is a nod to the movie Lonesome Dove (the quote is taken from a sign for the Hat Creek Cattle Company), and a bit of a private joke at the distillery. It means "A grape changes color (ripens) when it sees another grape." Perhaps it's a way to say that the distillery is changing and growing just as the whiskey is. Mr. McLaughlin and his volunteers are hard at work growing his business. Oh, and he doesn't rent pigs:)
Kim McLaughlin opened his distillery about a year ago in April (2015). He came into Pennsylvania from upstate New York following work in the oil and gas industry. After years of working locally in that industry, Kim became interested in the idea of distilling and began to privately seek out a space and the opportunity to do just that. Still maintaining a property in upstate New York and his love for the woods and the outdoors, he began to cut and age/season local New York white oak hewn on his property and gather different wood species to experiment with in the future.
"The oak's rings are tight and tend to be closer together because of the cold winters up in New York. That will affect how the whiskey ages," he told me.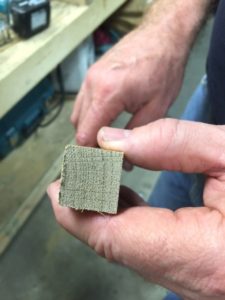 The site for his new distillery would be reconstructed from a roughly treated piece of property in Sewickley off of route 79. Everything would be done simply, his way. He'd bring in his own wood to build his own barrels and he'd tinker with his Hillbilly still until he turned out the spirits he wanted.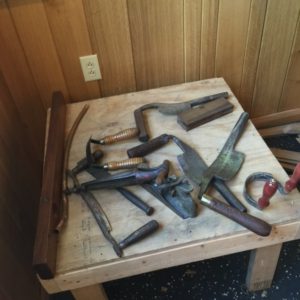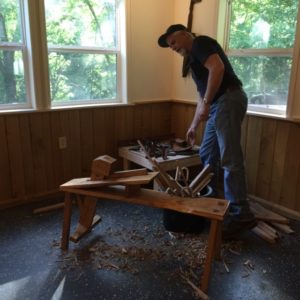 After about a 96 hour fermentation, the 90% corn and 10% winter wheat mash gets loaded into the still. Kim distills to about 131-150 proof in 50 gallon batches. The white whiskey is barreled in 25 gallon barrels that he purchased and in 5 gallon barrels that he coopers and chars on site.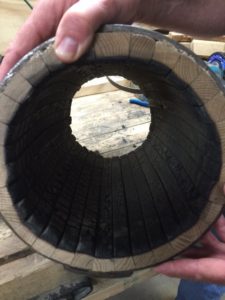 His "very technical paper towel filtration technique" is employed to remove any charcoal bits when dumping the barrels. His spirits are bottled at 90 proof, because, as Kim says, "Bourbon should be have more flavor." I was so shocked at how nice that bourbon was that I felt obligated to ask if he sourced it. He does not. The 3799 bourbon (named after his distillery's address) is aged in 25 gallon barrels that are labeled with the names of volunteers that helped to fill them.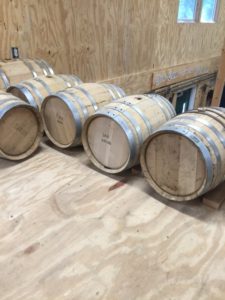 As much as I would've liked to have left with a bottle, they were sold out and I had to accept the consolation of signing up for his waiting list. The other spirits I sampled were the vodka, the Toasted Applewood Whiskey and Grandma's Rocking Chair Whiskey. (There is a rocking chair in the tasting room hooked up to a motor that constantly rocks a 5 gallon barrel of whiskey until Kim deems it ready for bottling.) The toasted applewood whiskey is created from fruit tree branches that were toasted on his grill before being loaded into a glass carboy that is then filled with whiskey- a charred applewood finish. He is experimenting with batches using toasted cherry (the fruit tree) branches as well. This process of toasting wood before influencing spirit was the method used in creating that final 1/2 ounce taste explosion that I will never forget.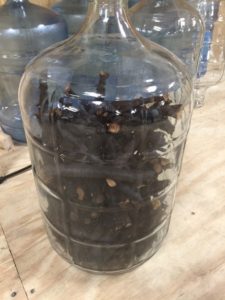 "Devil Juice." I can't imagine a better name for this stuff. Usually a whiskey will cycle through flavors as it lingers on your palate, perhaps its finish lasting a minute or two. This was like a powder keg went off in my mouth and it went through flavors like Christmas tree, pepper, rust, cooked meat, wood fire, tree sap, water from my backyard hose, corn muffin, burnt maple syrup…on and on it went and was still there changing five and ten minutes later! It was a crazy experience, but I found myself so curious about it that I signed up for a bottle!
I'm looking forward to returning to McLaughlin Distillery in the future. It was a small dose of what Pennsylvania has to offer in the way of creativity and craftsmanship. There's something special happening in this state and I am constantly being reminded that the spirit of American distilling is alive and well here. You just never know where this revival of our craft whiskey trail will take you…Go out and visit Kim and taste for yourself! Cheers!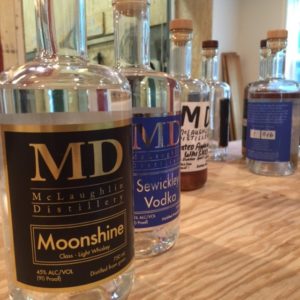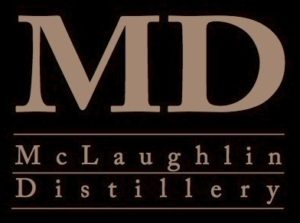 3799 Blackburn Rd, Sewickley, PA 15143
| | |
| --- | --- |
| Tuesday | 8AM–8PM |
| Wednesday | 8AM–8PM |
| Thursday | 8AM–8PM |
| Friday | 8AM–8PM |
| Saturday | 8AM–8PM |
| Sunday | 8AM–8PM |
| Monday | 8AM–8PM |