Moonshine, anyone? 
Out in Brookville, Pennsylvania, just off of the route 80 and about 2/3 of the way across the state toward Ohio, is Blackbird Distillery.  The name Blackbird comes from the nickname given to David Black, the owner and distiller, by family and friends.  David owns the distillery with his wife, Jennifer.  They wanted to replace David's income from welding with something a bit closer to his heart- making shine, "the primitive way," without machinery.
David hand grinds local corn before loading it into his mashtun.  Jennifer explained that he actually stands above the mash-tank on a plank, stirring it himself with a paddle.  He then buckets the cooked mash into fermentation tanks.  After fermentation is complete, a lever releases the liquid into pipes that drain into the 50 gallon stills, designed by Hillbilly Stills, downstairs. 
Each batch in their very small batch process is unique and is hand labeled to mark proof.  The recipe is 98% locally sourced corn from Corsica, Pa and 2% honey from the Finger Lakes region of New York, which changes the corn whiskey's flavor slightly giving it a touch of candy sweetness.  They offer a wide variety of flavored shines (17 of them!) using their corn whiskey as a base for each.  The root beer flavored shine is dangerous!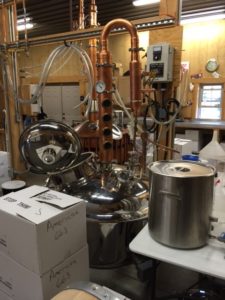 My visit to Blackbird Distillery was later in the afternoon, but I had a good chance to talk a bit with Jennifer.  She is a riot!  Even though we were alone for my tasting, she rang a bell behind the counter with gusto and declared that everyone should listen up 'cause someone's drinking shine!  I'm sure her husband, wherever he was at that moment, would've heard the news!  The moonshine was about 112 proof and quite tasty.  I made sure to buy a bottle. (Mine is 118.4 proof) They also offer a very high octane bottle of moonshine at 164 proof, which she warned me about and did not recommend.  Her eccentricity was delightful and her honest personality made me immediately like her.  It seems that they've struggled with being accepted in the region and signs of protest had been put up nearby.  Not all of Pennsylvania seems poised to accept distilling as part of the local economy.  But just like their logo, "Real shine…takes time," so will their acceptance by the locals, I guess.
The sales room surrounds you with shelves full of preserves, mustards, sauces and pickled veggies.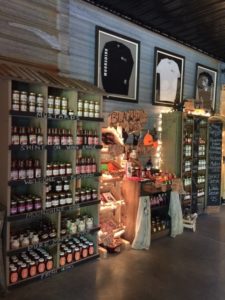 David's father is the man behind all of these jars, and, now in his seventies, creates new ones every week.  I made sure to bring home some bacon bourbon mustard and some homemade salsa, both of which are delicious!  They also sell refrigerated goods like cheeses and meats.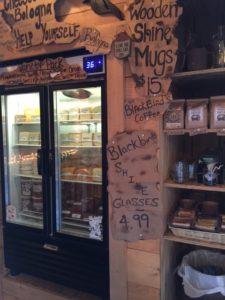 Jennifer is the proud decorator of the building, and she and I shared our love for the show American Pickers, which seems to be her aesthetic.  I loved seeing David's original hand-built still and all the Americana that fills the room.  If you're traveling on route 80, they are right off the highway, and Jennifer, alone, is well worth the trip!  Stop in and visit "Pennsylvania's Original Legal Moonshine Distillery."  I know I had a blast!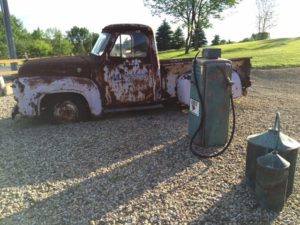 HOURS
Open 7 DAYS A WEEK
Now Operating on Our Summer Hours
Monday – Saturday 10am-7pm
Sunday 11am-5pm